Available with
Santa's Magic
Santa's Aurora
3 night trip
Duration
3 hours
Pricing
from £68 per adult. from £57 per child (7 to 16 years). from £35 per child (6 years and under).
Gliding down the perfect snow is great fun, with runs for all levels from beginners to experienced skiers and boarders.
You'll be surrounded by the wilderness of Northern Lapland which is like no ski resort you've skied before. Quiet slopes, ethereal views, and it's just a short bus ride from Saariselkä.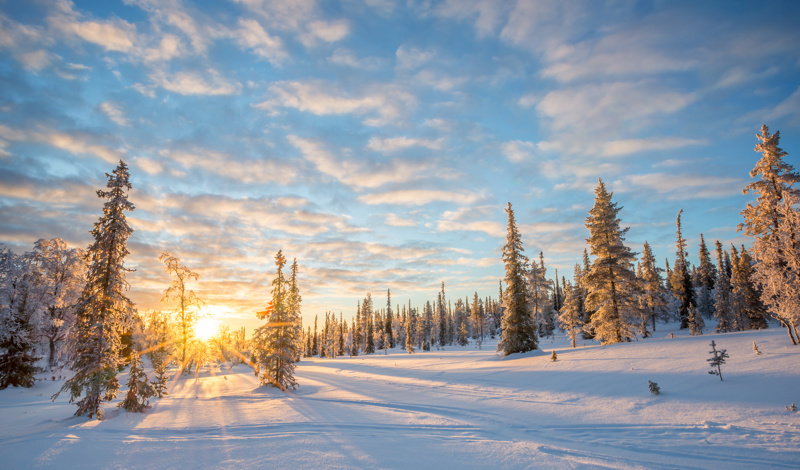 Arctic skiing in incredible snow
The snow quality is excellent for downhill skiing but they've got snow cannons on every slope just in case they need perfecting. 
You'll get a 3-hour ski session including your lift pass and equipment.
Uncrowded pistes  - perfect for anybody putting on skis for the first time.
11 runs, with 5 illuminated for floodlit skiing in the evenings.
How do I get to the ski center in Saariselkä

There are 3 bus stops to get to the ski centre, at Santa's Hotel Riekonlinna, the Santa's Holiday Club and at Santa's Hotel Tunturi.

If you need a drink or a snack, try the ski bar at the bottom of the slopes or the restaurant at the top of Kaunispää fell. The ski centre has an excellent shop and the hire equipment has some top notch choices like Telemark skis.
What facilities are there for snowboarders?

For snowboarders, there's a freestyle park with half pipe to try out tricks and jumps. There's also a kid's park in the centre especially for children.
Can I book ski lessons? 

If you fancy some private ski lessons, you can book local instructors who all speak excellent English, from £113pp. Prices are dependent on the number of people and a private lesson is for 1 hour and 30 minutes, including a lift pass and equipment hire. 
How to book skiing in Lapland
Book at the same time as your holiday, after you've booked via 'Manage Your Booking' or call us.
Explore more of our magical adventures
Cross-Country Skiing
1 hour (30 minutes skiing)
Available with
Santa's Magic
2 night trip
3 night trip
from £38 per adult. from £25 per child (6 to 11 years).
Find out more
Northern Lights Adventures
2 hours
Available with
Santa's Magic
Santa's Aurora
2 night trip
3 night trip
from £101 per adult. from £79 per child (4 to 11 years).
Find out more
No one knows how to make
Christmas

more

magical
The Complete Lapland Package
Flights, transfers, half-board accommodation, a fun-filled activity trip and snowsuits are all included.
Snow Guarantee
Seeing Lapland in the snow is all part of the experience, so if we decide that there's not enough snow, you can change your travel dates, within the same season, or get a full refund.
The Perfect Location
A remote spot in the far north of Finland, 200km above the Arctic Circle among the snowy trees of Saariselkä.