All you need to know about visiting Lapland
Lapland is the land of mystical reindeer, Santa, and his cheeky elves. What more could you want in the world of Christmas? Let's not forget the enchanting pine forests, frozen lakes, and streams.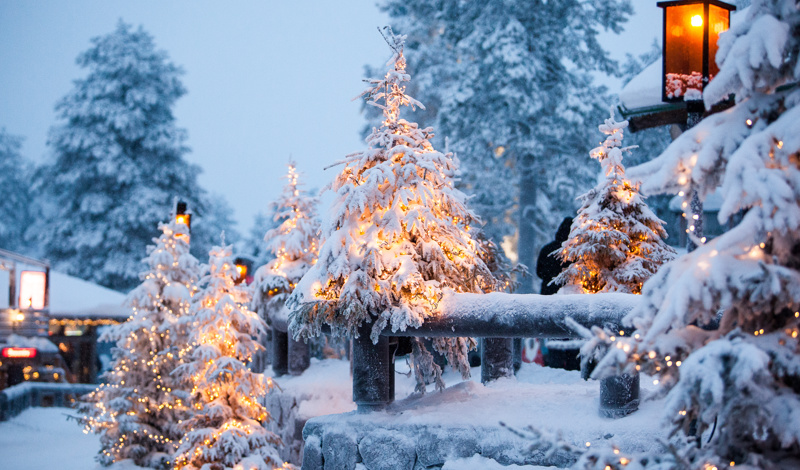 This magical wonderland has inspired many generations of families the world over to visit in search of that perfect Christmas spirit.
Join us in this other-worldly location, deep in the arctic wilderness, where a once-in-a-lifetime experience awaits.
Where is Saariselkä?
Santa's Lapland takes you 200 kilometres north of the Arctic Circle, to the small village of Saariselkä which is set against the beautiful backdrop of Urho Kekkonen National Park.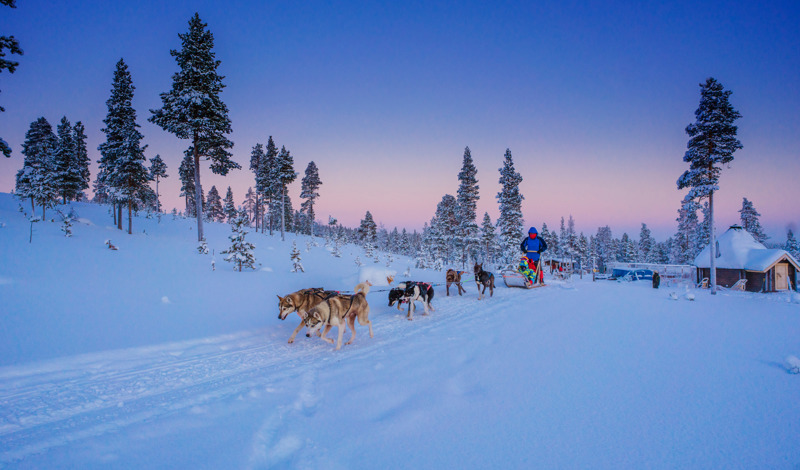 Once you're there, exploring the cosy little village is as easy as mince pie. Just slip on your snow boots and you're ready to go. With a supermarket, souvenir shop, and plenty of restaurants nearby, you won't have to wander far for anything you need.And because it's close to Ivalo airport (about 30 minutes transfer time), getting there won't take hours out of your day.
This resort is a world away from the rest of Lapland, allowing you to fully immerse yourself in the magic of Northern Finland. You'll see plenty of snow, huskies, and reindeer!
There's Lots of Snow
Although Lapland has significantly milder winters compared to other arctic areas, the climate is still sub-arctic. Typically, the snow starts to fall in September and continues to fall all through September to May.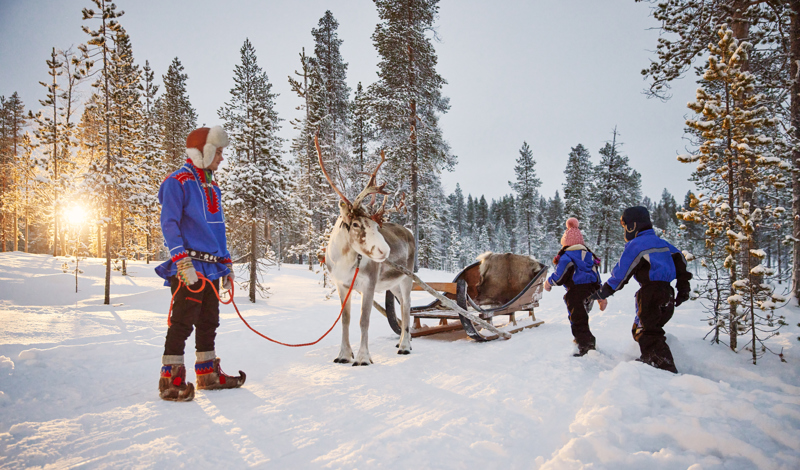 The snow normally stays on the ground until early May, so we can guarantee a white Christmas!
We understand that the Santa experience wouldn't be complete without endless snow to play in. If we think there's not enough snow, we will let you know so that you can choose to move your holiday to a later date in the same season. Or, you can choose a full refund.
Experience Sámi culture
Explore the ancient sounds, traditional handicrafts, and long-standing reindeer culture of Saariselkä on your trip to Lapland.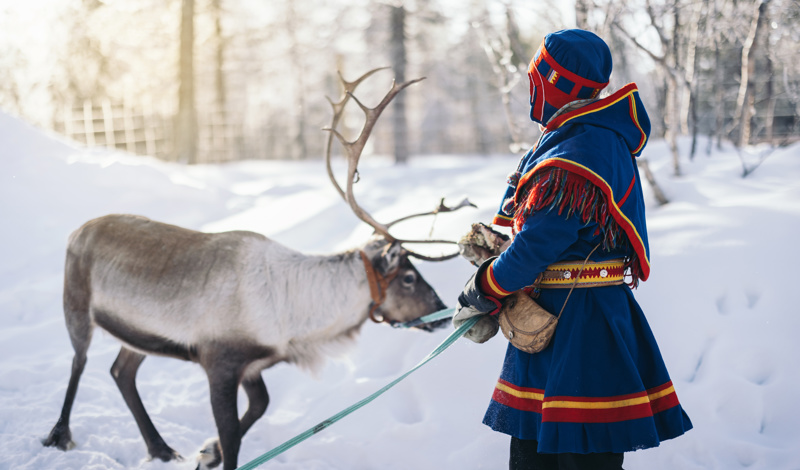 Sámis are Finland's and Europe's only recognised indigenous people. They have their own languages and culture, which differs from local Finns. In total, they speak three languages: North Sámi, Inari Sámi and Skolt Sámi.
Historically, they used to roam free as peaceful Reindeer herders, never once claiming possession of the land. The ancient Sámi believed that all objects in nature had a soul, whether that be people, animals, plants or stones.
On your trip, you'll be encouraged to explore this vibrant culture for a truly authentic experience. You'll get to say hello to one of the Sámi people as they lead you on your very special reindeer ride.
See The Northern Lights
The Northern Lights are one of nature's most amazing spectacles. And on your stay in Saariselkä, there is a chance that you'll see them in all their full glory.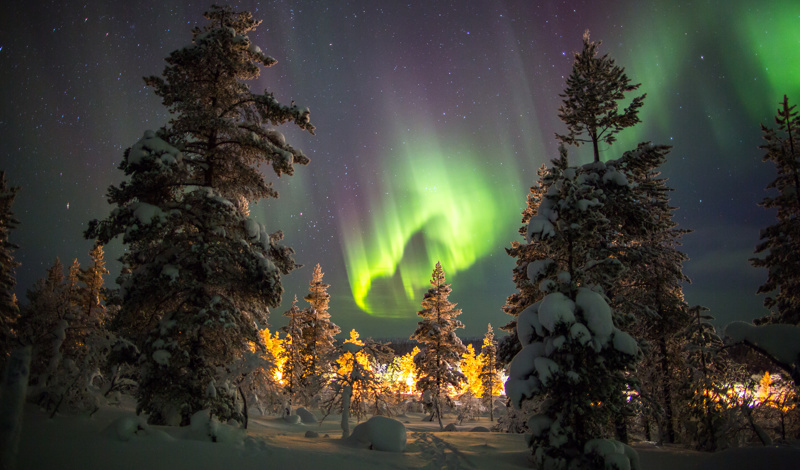 The best time to see them is from December to March, however, there are no guarantees on a cloudy day. Our trips run from late November to December, the prime time to catch a glimpse of this stunning display. 
Did you know it's now easier to predict when they'll appear? This is all thanks to clever satellites keeping tabs on the sun's activities.
You can download the app, 'My Aurora forecast' which will provide you with up-to-date predictions when you're in Lapland. You'll have lots of fun searching for them and getting out into the remote, snowy parts of  Saariselkä.
There's many different ways to experience the Aurora Borealis, discover our Northern lights adventures. 
Fun Facts About Lapland
Lapland is considered one of the most beautiful regions in Finland. It has been the subject of many children's books, movies, and songs for decades. At Santa's Lapland, we bring this magical place that exists in these books to life.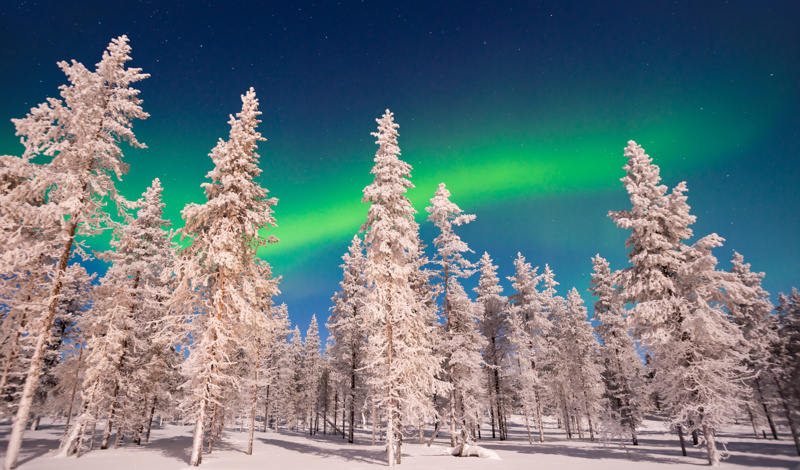 Lapland is huge!
Lapland covers a lot of ground. It's a region, not a country. In fact, it makes up about one-third of Finland's total area! Lapland stretches from the Arctic Circle in the north to the borders of Norway and Sweden and from east to west all the way down to Finland. It's huge!
Daylight hours
Daylight is as rare as catching a glimpse of Rudoph's nose lighting up the sky (keep an eye out, you might just get lucky).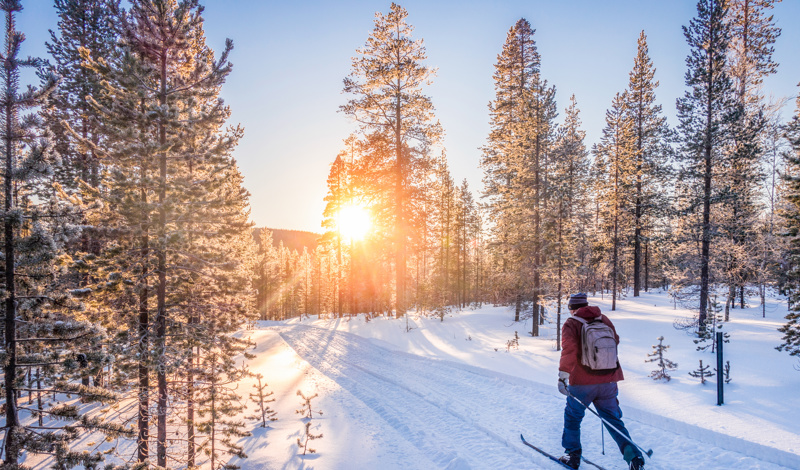 You can expect to only get about 2 hours of low level sun, making its entrance at around 11am, and setting by 2pm, leaving behind a mystical aura of pink and yellow hues in the sky.
It's true that in Lapland, magic is in the air, as well as in its night sky. Just don't forget to look up - you won't want to miss Santa's magical glow trail.
There's More Reindeer Than Humans in Lapland
Lapland is the land of reindeer. The human population is tiny, with just over 200,000 reindeer compared to 178k humans. The ratio makes it a little easier to spot one of those antlers in the wild!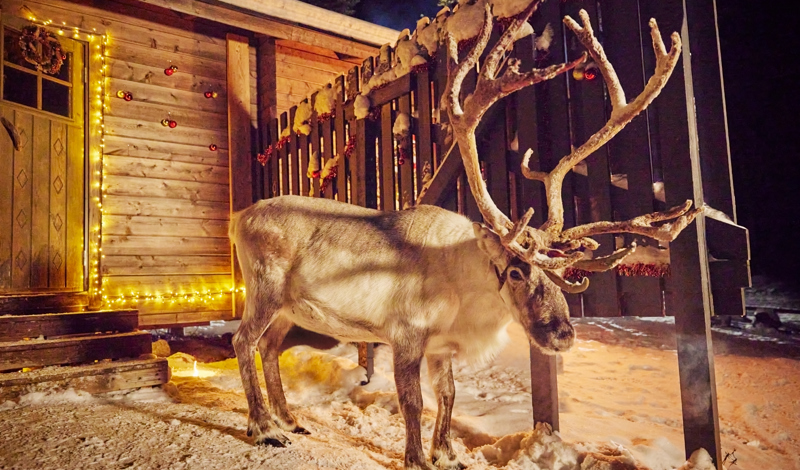 Every reindeer in Lapland has an owner, who may be a Sámi or someone from a reindeer husbandry family. 
Reindeer are semi-wild, they are allowed to roam freely in the summer but are kept in more specific fenced areas in the winter period. 
The National Dress of Lapland is Called Gakti
If you're looking for a way to tell your Sámi friends apart from each other, the key things to look out for are their national dress.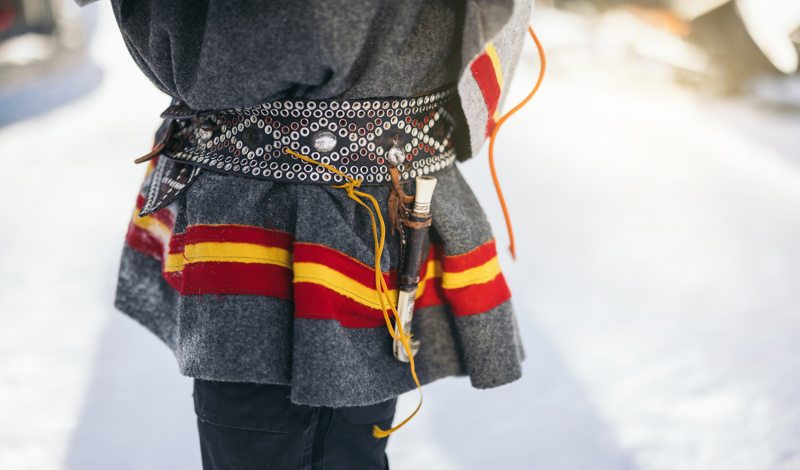 The gákti, or traditional dress, is worn by Lapland's Sámi people and contains clues about all aspects of their lives. Everything from where the wearer is from, to whether they are married or not.
The colours and patterns of today's clothing are more colourful than the original clothing that was made from reindeer hide.
Northern Finnish national dress (gakti) are primarily bright blue and red. Traditionally it is worn with reindeer-skin boots, colourful shawls and hats. 
The traditional colourful clothing is brought out on festive ceremonial occasions, although rarely worn in everyday situations. 
In the winter the Sámi (and the Finnish people in general) wear boots made of reindeer hide because of the warmth this material provides.
Finnish is The Main Language Spoken
Finland is the land of snow, but it's also a land of languages. Finnish is the main language with some people also speaking the Sámi languages.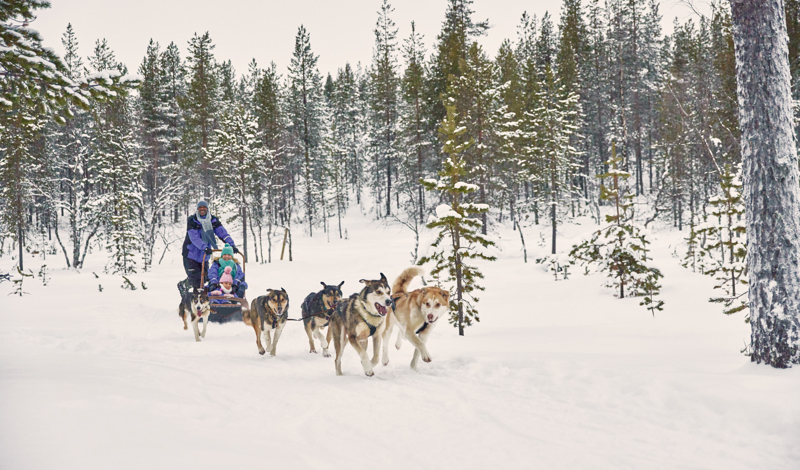 Finnish is spoken by around 5 million people, mainly in the western part of the country. 
Sámi is a minority language that is spoken by around 2,000 people living in the North of Finland.
Learn Some Finnish Phrases!
The letter Y is pronounced as a U. The letter J, pronounce as a Y. Where there are the same two letters in a row, emphasise the sound.
Hyvää Huomenta - Good Morning
Hyvää Iltaa - Good Evening
Hei! / Moi! / Morjens! - Hi! / Hello!
Moikka! / Hei Hei! - Bye
 Mitä Kuuluu - How are you?
Kiitos, Hyvää - Good thanks
Anteeksi - Excuse me
Kiitos - Thank You
Ole Hyvä - You are Welcome
Kippis - Cheers
Kyllä - Yes
Ei - No
Saisinko yhden oluen? - Can I have a beer please? (A vital one to learn).
Search
What is the normal temperature in Lapland?

During December it is normally about -12°C, but can reach as low as -30°. These temperatures are perfectly manageable however with the thermal suits and boots we provide free of charge. The team will amend itineraries if weather conditions will affect your magical trip. You can find out more about Lapland and Saariselka here.
How commercialised is it?

As you can imagine, we want you to experience the true, traditional spirit of Christmas, set in the unspoilt wilderness of Lapland, where each family's private meeting with Santa is much less commercialised for example than a department-store 'grotto' in the UK.

Saariselkä has kept its charming, unspoilt atmosphere and 'winter wonderland' feel, which creates a far more magical and Christmassy atmosphere than some larger resorts.

You can find out more about Lapland and Saariselka here.
Do the Finnish speak English?

Yes, most people in Saariselkä speak English extremely well as do our team.
How many hours of daylight can we expect?

There's about four and a half hours of daylight in December, with approximately two to three hours of 'grey light' either side, rather like twilight in the UK.
What currency is used in Lapland?

The Euro is the local currency in Lapland, with only one cash-point machine in Saariselkä so please ensure you bring enough Euros with you!

Major credit cards (except American Express) are accepted in hotels, most restaurants and for booking the optional adventures locally.
What is the food like?

Our Saariselkä accommodations offer a buffet style breakfast with lots of different foods. And on your 'Search for Santa' day, we'll provide you with a tasty lunch to keep your energy up!

Lunch is not included on arrival or departure days, or on your 'Adventures Day' on our Santa's 4-day breaks. Dinner in the hotels is generally buffet-style, and mostly offers a choice of international cuisine, some Lappish specialties and standard children's options.
What are the Northern Lights and when can they be seen?

The 'Aurora Borealis', more commonly known as the Northern Lights, is a natural phenomenon caused by solar particles colliding with the earth's magnetic field.

As a natural event, no one can predict or guarantee their appearance during your stay. However, December is one of the best times to see them, and Saariselkä is an ideal location, being one of Lapland's most northerly resorts.
Is there a swimming pool?

Yes, there is a superb swimming-pool in the Santa's Hotel Holiday Club in Saariselkä, complete with water-slide, waves, water-chutes, two whirlpool spa-baths, an upstream 'river', children's pool and pool-bar!

It is free for Holiday Club guests, and offers a special reduced rate, payable locally, for my other guests staying elsewhere.
What is the time difference in Lapland?

Lapland is 2 hours ahead of UK time in December (i.e. GMT + 2).
Choose your Santa's Lapland experience
Experience the magic of Lapland, choose between five great hotels to sleep in before heading off to meet Santa and his elves. Revel in a Sleigh Barn show, a Festive Dinner, and see the elves perform in a magical igloo. Follow Santa's glow trail he's left behind by a snowmobile sleigh for your private meeting with Santa.
from £1199 per adult
With a bit of luxury sprinkled on top, sleep under the Northern Lights and enjoy a Wilderness Dinner experience. Whoosh around on a snowmobile safari, step into Santa's Elves Workshop and enjoy an extended husky sled ride at our exclusive activity centre. Travel by reindeer sleigh, following Santa's glow trail for your private meeting with Santa and his Aurora Elf.
from £1889 per adult
No one knows how to make
Christmas

more

magical
The Complete Lapland Package
Flights, transfers, half-board accommodation, a fun-filled activity trip and snowsuits are all included.
Snow Guarantee
Seeing Lapland in the snow is all part of the experience, so if we decide that there's not enough snow, you can change your travel dates, within the same season, or get a full refund.
The Perfect Location
A remote spot in the far north of Finland, 200km above the Arctic Circle among the snowy trees of Saariselkä.