What Do You Wear in Lapland?
What should I wear on my Lapland holiday? Layers! Lots of them. 
Santa's home is tucked away, deep within the Lapland Arctic Circle. Winters here are very cold, so you'll need to wrap up! Think lots of warm layers, sensible shoes, and cosy hats and gloves.
Don't worry, we'll provide you with all the outerwear you need for the arctic weather. We will ensure you're warm, comfortable, and ready to take on the magic of Lapland.
You will be provided with...
A thermal suit

This is an overall to put on top of base layers that has been specially designed for the cold weather. Please note that thermal suits for children under 2 years aren't always available so we recommend you bring one with you.
Thermal outdoor boots

These are waterproof shoes that have a special thermal layer to keep you warm. They have been designed to keep you both warm and comfortable! The boots need to be at least one size bigger than your actual shoe size. This is so you can wear two layers of socks - we have to keep those feet toasty!
A pair of woolen socks

This thick woolen material will keep your feet warm and comfy inside your thermal boots. Warm feet are happy feet and you'll need those for your Lapland activities.
Thermal mittens

No cold hands on our watch! Thermal mittens have a special thermal layer to keep your hands warm and mobile. However, you might need an extra pair of liner gloves to wear underneath. The temperatures can get very cold in Lapland, especially closer to Christmas.
Once you have collected your thermal suits and clothing, please be sure to check everything fits correctly. If anything needs to be changed, a Santa Rep will be happy to assist you.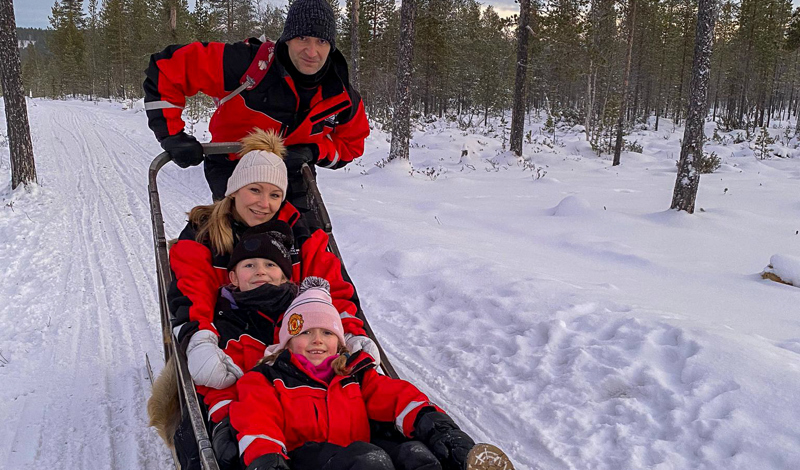 It gets very cold
In the Arctic Circle, temperatures can get as low as -30 degrees celsius in November and December so you'll want to take advantage of the special make clothing we provide. We live by the Nordic saying, "There's no such thing as bad weather, only bad clothes."
Standard ski and winter clothing is unlikely to be as effective, as temperatures can be much colder than they are in the mountains. You don't want to miss out on all the fun and excitement of Saariselkä!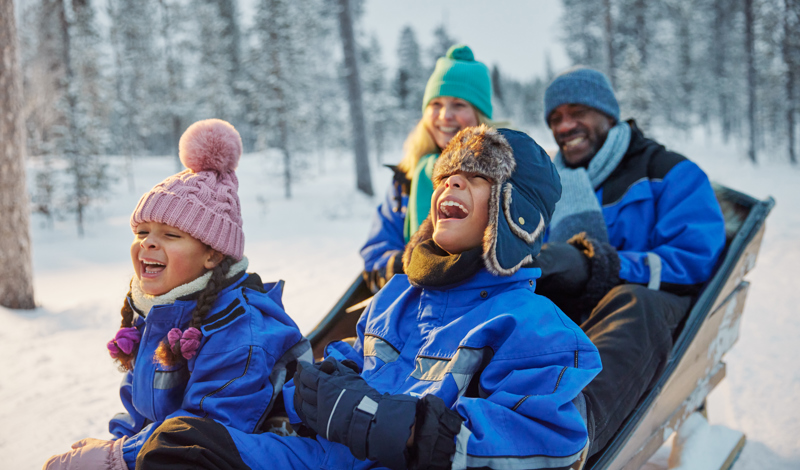 What Clothes To Pack For Lapland
Santa isn't the only one making a list and checking it twice. 
A visit to Santa's Lapland is a once in a lifetime adventure, so it's essential you have everything you need to keep you warm so you can truly enjoy the magic.
To help you out, we've compiled a complete list of what clothes to take to Lapland when travelling November and December. Don't forget to leave some room in your suitcase for a special early Christmas present from Santa!
Lapland Packing List
Here's what to pack for Lapland…
Thermal base layers

Long Sleeved tops and trousers. The key to keeping warm in the colder climate in Saariselkä is being able to layer up appropriately. Wear several layers of loose-fitting clothing beneath your provided thermal suit. Wicking materials, fleece and wool are advised. Cotton and denim should be avoided unless only worn indoors. 
Balaclava / Buff

Especially for children, these are great for keeping the wind chill off your face - a must for those exciting activity days. 
Warm hat

The part of your body that retains heat the best is your head so a nice warm hat is a must. The crazier the design the better! With everyone wearing the same thermal suit, a stand out design is a great way to keep tabs on your little ones.
Gloves (including liners)

These almost go without saying, cold hands are no good at taking pictures! One of the first things to go cold on your body are your extremities (hands and feet) so keeping these layered up are vital. Don't worry, you'll only require some liners as special gloves will be provided.
Socks

As with gloves, these are going to be really important to bring with you. You will need to wear these under the provided woollen socks to ensure you go home with the same number of toes that you arrived with!
Swimwear (for the sauna)

If you plan to make the most of our indoor pool (in Santa's Holiday Club) or many saunas, then remember to pack your swimwear! Unless you want to embrace the Finnish tradition of not wearing anything at all. 
Sensible shoes

You'll need these for the flight journey. When you arrive, we will provide you with special thermal boots to use for the duration of your stay.
Camera

There are so many things to see and do in Lapland, you'll want to treasure the moments forever. Make sure to bring extra batteries and keep your devices in the pockets of your thermal suits. You won't want them kept out in the cold for long periods of time!
Evening wear

You won't be outside all the time, so make sure you pack something nice to wear for your dinners– Christmas jumpers are a great option!
Discover our Santa's Lapland experiences
Experience the magic of Lapland, choose between five great hotels to sleep in before heading off to meet Santa and his elves. Revel in a Sleigh Barn show, a Festive Dinner, and see the elves perform in a magical igloo. Follow Santa's glow trail he's left behind by a snowmobile sleigh for your private meeting with Santa.
from £1199 per adult
With a bit of luxury sprinkled on top, sleep under the Northern Lights and enjoy a Wilderness Dinner experience. Whoosh around on a snowmobile safari, step into Santa's Elves Workshop and enjoy an extended husky sled ride at our exclusive activity centre. Travel by reindeer sleigh, following Santa's glow trail for your private meeting with Santa and his Aurora Elf.
from £1889 per adult
FREE CHILD PLACES & £100 OFF PER PERSON ON SELECTED HOTEL STAYS
Don't Miss Out On This Limited-Time Magic
We're giving the gift of incredible savings this year with FREE child places on our Santa's Magic package for selected dates in November and December 2023.
PLUS, enjoy an additional £100 per person discount for all 2023 stays at Hotel Riekonlinna and Hotel Tunturi.
Please note: The Free Child Places offer is automatically applied and included in the total price when booking online.
| | |
| --- | --- |
| Departing from | Departure Dates |
| Birmingham | 09/12/2023, 12/12/2023 |
| Bristol | 12/12/2023 |
| Cardiff | 09/12/2023 |
| London Gatwick | 29/11/2023 |
| London Stansted | 30/11/2023 |
| Manchester | 06/12/2023 |
Half Price Child Places 2024
Enjoy half price child places on our Santa's Magic package for these selected dates in November and December 2024.
| | |
| --- | --- |
| Departing from | Departure Dates |
| Birmingham | 28/11/2024, 05/12/2024, 10/12/2024, 12/12/2024 |
| Bristol | 04/12/2024, 10/12/2024 |
| London Gatwick | 27/11/2024, 04/12/2024, 09/12/2024, 11/12/2024, 28/11/2024 |
| London Luton | 03/12/2024 |
| Newcastle International | 27/11/2024 |
No one knows how to make
Christmas

more

magical
The Complete Lapland Package
Flights, transfers, half-board accommodation, a fun-filled activity trip and snowsuits are all included.
Snow Guarantee
Seeing Lapland in the snow is all part of the experience, so if we decide that there's not enough snow, you can change your travel dates, within the same season, or get a full refund.
The Perfect Location
A remote spot in the far north of Finland, 200km above the Arctic Circle among the snowy trees of Saariselkä.