Our Santa's Magic package is available to book for 2 or 3 nights. Below is a sample itinerary of what you can expect on our magical 2 night Lapland holiday.
Welcome to Saariselkä

It's finally here, you'll be heading 200km above the Arctic Circle to a land that feels like another world.

Look out for the cheeky elves who'll meet you in Saariselkä

Can you speak their language? We'll then whisk you away to your hotel. The afternoon is yours for snowy adventures - you'll all be cosy and snuggly with complimentary thermal suits so you can properly explore a real winter wonderland. Watch your kids buzz with excitement as they decide what to do first.

Tobogganing

This is the longest toboggan run in the whole of Finland, even the grown-ups can bring out their inner child for this. Twist and turn your way down, then head back for another go.

Snow, glorious snow

Create new snow friends by building snowmen and carving out snow angels in the thick snow. Have a snowball fight with unlimited powdery ammunition - your thermal suits will keep you warm and dry. Then it's time for a tasty dinner. You're in magical Lapland - and tomorrow, we search for Santa.
Search for Santa

Today's the day. Our elves will lend a helping hand while you travel by husky and reindeer, following Santa's magical glow trail to find his secret cabin.

Husky sled ride

Our energetic huskies are ready to sprint into action, racing you through the snowy woodland wilderness. This is how the elves get around, swooshing through the snow, cuddled up and cosy. Even better, the grown-ups get to take a turn at driving.

Reindeer sleigh ride

Snuggle under the blankets in the sleigh, while your local Sami guide takes the reins. Rudolph's friends will transport you around the incredible scenery - you've never seen scenery quite like this.

Elves in the igloo

The elves have built two real igloos where you'll get to see one of their fun-filled elvish shows. They've wrapped some presents and can't quite remember what's in them. They'll need a little interactive help from your kids to figure it all out. Then, pop to the igloo next door to see their glistening ice bar, where you can relax with a drink - and don't worry, there's plenty of ice cubes for your refreshing beverage.

Reindeer Centre

Learn about Santa's magical sleigh-flyers with a fun show. Discover what they eat and how they handle hot and cold weather. Play some Crazy Reindeer Golf, try your hand at the reindeer lasso or feed our reindeer friends.

Time for lunch

Recharge your batteries with a wonderfully warming 2-course meal and plenty of hot berry juice.

Snow and ice activities

Get stuck into some winter games with kick-sledding, snow-hockey, skidoo rides and more tobogganing. The best bit? Have as many goes as you like.

Get cosy in a Kota

Pop inside a traditional Kota (it's like a teepee) where you can warm up around the soothing cracks and snaps of an open fire, served with delicious refreshments like pancakes and hot berry juice.

Santa's secret log cabin

Everything leads up to this magical moment, tucked away in the forests where dreams come true. All aboard the snowmobile sleigh for your private meeting with Santa - keep your eyes peeled for some surprises along the route too. A memory that lasts a lifetime.

Gala Dinner

Take all that enchantment and jubilation to our Gala Dinner where you'll relive every unforgettable moment of a cracking Christmas adventure. Looking for more adventure? Before dinner, book a Northern Lights adventure by snowmobile.
Dream a little longer

We've brought you into our secret Lappish world, you've met Santa, and now there's a little more time to explore.

Charming traditional shops

Have a wander round the village's shops to see all the hand-made Lappish gifts, clothes, toys and Christmas trinkets. Take a memory home with you.

Looking for more adventure?

Head out on a sleigh or go for a winter walk in the snowy forest. Then, it's just a short trip back to your flight home. Make sure there's plenty of room in your case for all the magical memories.
Want more time to enjoy Saariselkä?
All of our experiences are available as 3 night trips with 4 days to experience more magic. Another day in the dreamworld of Lapland, with a host of extraordinary adventures.
Our optional adventures can also be booked on our two night trips. Northern Lights adventures, if pre-booked will usually take place on the first evening. Most other adventures can be booked for the morning of your last day.
An extra day for family time in the snow. Husky and reindeer rides, thrilling snowmobiles, a spot of skiing, or a hunt for the Northern Lights. The choice is yours.

Optional Adventures

Husky Rides

Mush your way through the snow behind the eager huskies you made friends with. Head for a longer trip this time.

Reindeer Rides

A tranquil, calming trip through the fresh snow with the animals who get Santa around.

Snowmobile Trips

See a part of the world untouched by humans, take a snowmobile into the wilderness with your guide.

Snow-shoeing

A fun way to spend time in the deep snow, seeing how the Sámi people used to do it.

Explore a little more, make magical memories in this other-worldly wilderness. You're spoilt for choice.

See for yourself
What's included in Santa's Magic?
Getting to Lapland
Flights, transfers and half-board accommodation in your choice of four hotels.
Activities
A full day of activities including a husky and reindeer ride and a private meeting with Santa.
Snowsuits
We'll provide you with a thermal suit, thermal outdoor boots, woolen socks and thermal mittens to keep warm in snowy Saariselkä.
Everything was so well organised. The whole trip although just ran so smoothly, reps were on hand to answer any questions. Hotel was lovely, good range of food and friendly staff.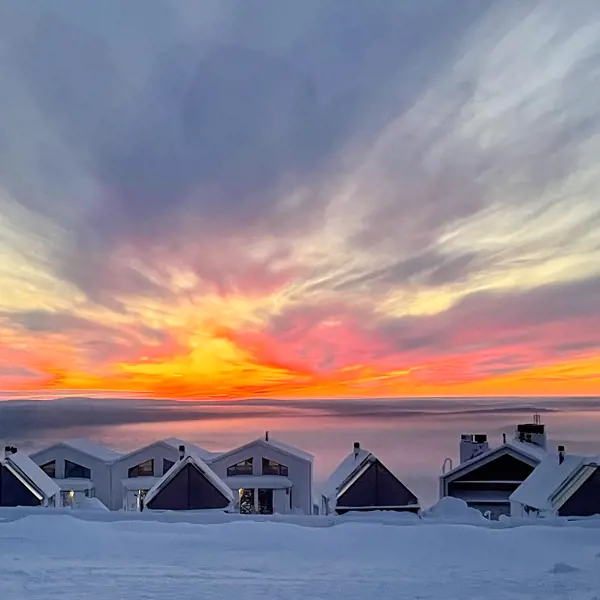 Santa's Aurora
Explore our alternative package with Santa's Lapland
from £1609 per adult
Santas Aurora
No one knows how to make
Christmas

more

magical
The Complete Lapland Package
Flights, transfers, half-board accommodation, a fun-filled activity trip and snowsuits are all included.
The Perfect Location
A remote spot in the far north of Finland, 200km above the Arctic Circle among the snowy trees of Saariselkä.
Fly from 14 regional airports
Getting to Lapland has never been easier, with direct flights from around the UK to Ivalo.