Reindeer-driven sleighs. Husky-driven sleds. Elves around every corner. Spectacular shows. Tobogganing, icefishing, snowmobiles & so much more... And of course, following the glow trail in the great search for Santa.
No one knows how to make Christmas more magical.
Fly To Lapland from Manchester
Feel the excitement build as you venture north to Finnish Lapland. This is the most magical experience you will ever have with your family. And it all starts from the moment you board the plane.
We've got a fantastic journey planned for you, full of great games and festive songs. From team races up and down the plane to puzzles and activity books - you'll be jingling all the way!
Make sure you keep your eyes peeled when you land in Ivalo, as a special surprise is waiting for you.
Manchester to Ivalo
Flying to see Santa in Lapland couldn't be easier. You can fly non-stop to Saariselkä's local airport of Ivalo, which is a short and easy 25-minute transfer from Saariselkä. Our flights are exclusive to Santa's guests and depart from Manchester, early in the morning.
Our journey takes you deep into the wilderness of Saariselka, 200km above the arctic circle. There, you'll experience once-in-a-lifetime sights like frozen lakes, enchanting pine forests and never-ending snow.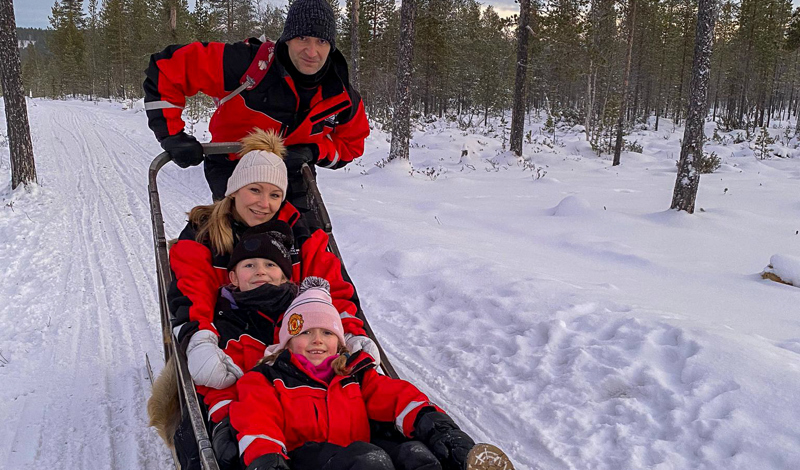 How long is the flight to Lapland from Manchester?

The average direct flight time is 3 hours 36 minutes.
In-Flight Catering

Our onboard services will add fuel to your excitement, getting you ready for your magical Lapland adventure. You'll be fully energised with a choice of drinks, snacks, and more.

Pre-Booked Meals

Flying with Jet2? You can pre-book your meals up to 5 days before departure for a small fee. Please contact us to book. If you have booked via a travel agent, then please contact them directly.

If you are flying with Titan, you only have a buy-on-board option for food.
Pre Booked Seats

Neither Jet2 or Titan offer the option to pre-book seats. Both airlines will allocate seats at the airport. 
Manchester Airport Facilities

Airport Parking ✔️

Wifi ✔️

Mobile Charging ✔️

Shopping Services ✔️

Restaurants & Food ✔️

Pharmacy ✔️

Pre-flight Lounge ✔️

Children's Play Area ✔️
Choose Your Santa's Lapland Experience
Experience the magic of Lapland, choose between four great hotels to sleep in before heading off to meet Santa and his elves. Revel in a reindeer barn show, a festive Gala Dinner, and see the elves perform in a real igloo. Follow Santa's glow trail he's left behind by a snowmobile sleigh for your private meeting with Santa.
from £1239 per adult
With a bit of luxury sprinkled on top, sleep under the Northern Lights and enjoy a Wilderness Dinner experience. Whoosh around on a snowmobile safari and enjoy an extended husky sled ride at our exclusive activity centre. Travel by reindeer sleigh, following Santa's glow trail for your private meeting with Santa and his Aurora Elf.
from £1579 per adult
No one knows how to make
Christmas

more

magical
The Complete Lapland Package
Flights, transfers, half-board accommodation, a fun-filled activity trip and snowsuits are all included.
Snow Guarantee
Seeing Lapland in the snow is all part of the experience, so if we decide that there's not enough snow, you can change your travel dates, within the same season, or get a full refund.
Price Match Promise
If you find your Santa's Lapland trip cheaper before booking, we'll match the price.