Have you always wanted to know your elf name? Well now you can find out with our simple elf name generator!
Simply find the first letter of your first name and match that up with your birth month to discover your true elf identity. The playful elves of Saariselkä will be sure to welcome you in as if you were one of their own with an elf name as snazzy as this…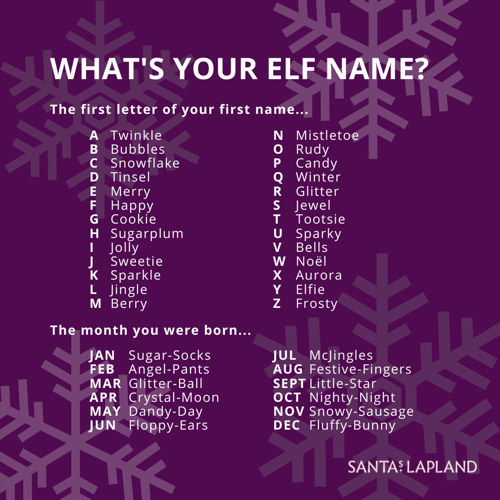 If you travel to Santa's Lapland, you'll have the chance to meet some real-life elves and you'll soon find out just how mischievous they can be! Santa needs plenty of helpers to make sure all the toys and games are ready to deliver to the children of the world on Christmas Eve and Santa's elves are excellent workers.
Elves have a great sense of fun and live in tight-knit family communities together in Santa's Lapland. Each elf learns the traditional toymaker trade from a young age, finally graduating to work in the family toy business once they've passed their elf exams. Each elf family specialises in a specific type of toy making, from PlayStation games to cuddly toys - these clever elves make them all by hand.
Discover our Santa's Lapland experiences
Experience the magic of Lapland, choose between five great hotels to sleep in before heading off to meet Santa and his elves. Revel in a Sleigh Barn show, a Festive Dinner, and see the elves perform in a magical igloo. Follow Santa's glow trail he's left behind by a snowmobile sleigh for your private meeting with Santa.
from £1199 per adult
With a bit of luxury sprinkled on top, sleep under the Northern Lights and enjoy a Wilderness Dinner experience. Whoosh around on a snowmobile safari, step into Santa's Elves Workshop and enjoy an extended husky sled ride at our exclusive activity centre. Travel by reindeer sleigh, following Santa's glow trail for your private meeting with Santa and his Aurora Elf.
from £1889 per adult
No one knows how to make
Christmas

more

magical
The Complete Lapland Package
Flights, transfers, half-board accommodation, a fun-filled activity trip and snowsuits are all included.
Snow Guarantee
Seeing Lapland in the snow is all part of the experience, so if we decide that there's not enough snow, you can change your travel dates, within the same season, or get a full refund.
The Perfect Location
A remote spot in the far north of Finland, 200km above the Arctic Circle among the snowy trees of Saariselkä.