Front row seats to the Northern Lights from the comfort of this luxury hotel. You can even sleep in a glass cabin under the stars. Exclusive to Santa's Aurora.
Superb spot to see the Northern Lights
Suites and glass cabins with geothermal heating system
Buffet breakfast & 3-course buffet-style evening meal
Sauna and outdoor hot tub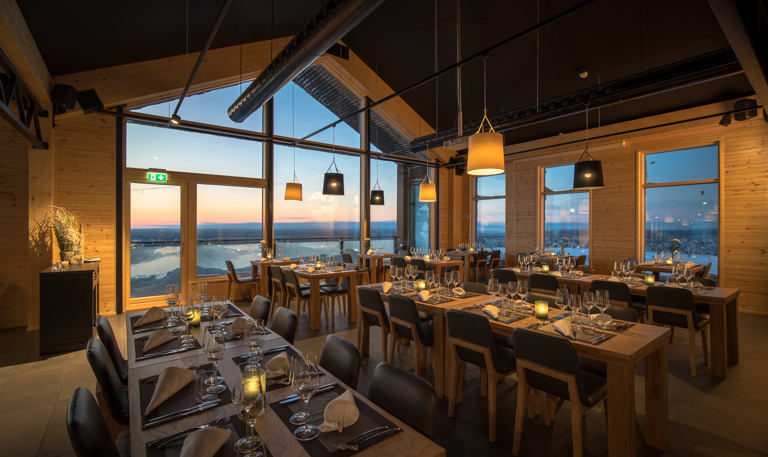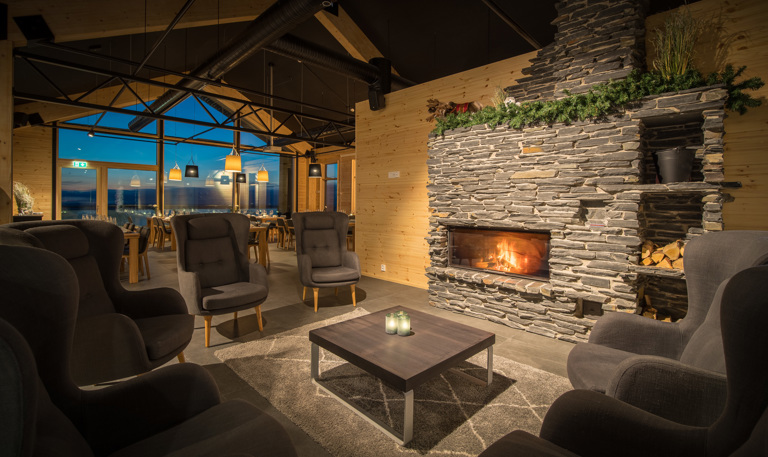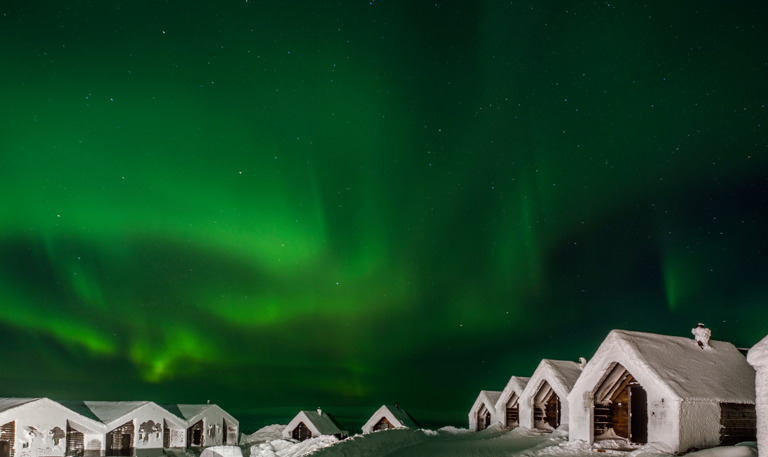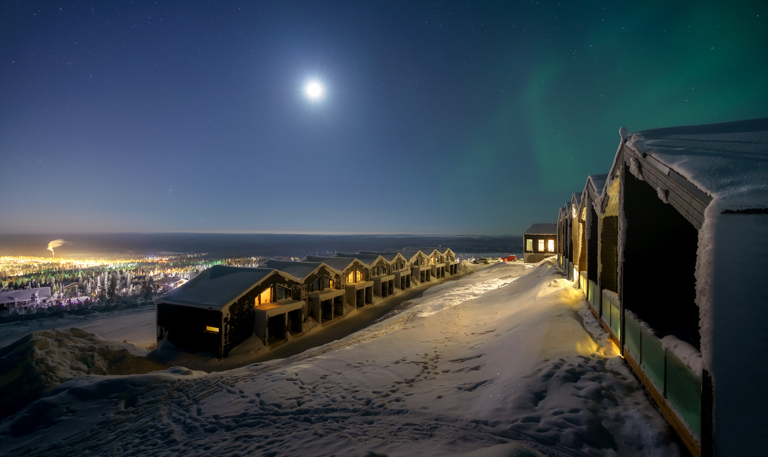 Luxury rooms designed with a modern style
All the rooms have an en-suite shower and toilet, geothermal heating system, flatscreen TV, minibar, tea and coffee making facilities and free WiFi.
Scenic View Suites (Type A)

Rest up on a twin or double bed on the upper floor, with windows facing north for the Northern Lights. There's a sofa-bed for up to 2 children on the lower floor, where the window looks out over the arctic landscape.

SLEEPS 2-4

Glass Cabins (Type B)

Sleep under the stars in a cosy cabin. The impressive glass roof means you can gaze at the stars until you drift off, plus it faces north for the best chance of seeing the lights. There's a double bed for you and pull out beds for the children so you look for the Northern Lights together.

SLEEPS 2-4

Scenic View Suites With Sauna (Type C)

These large suites have your own private sauna and a kitchenette with dining table and chairs. The large windows are glorious - look out over the forest and the twinkling lights of Saariselkä.

SLEEPS 4

Scenic View Suites With Sauna (Type D)

These large suites have your own private sauna and a kitchenette with dining table and chairs. The large windows are glorious - look out over the forest and the twinkling lights of Saariselkä. These suites additionally have a put-up bed for children aged 11 or under.

SLEEPS 5
A luxury hotel designed around the lavish landscape
This modern, elegant hotel never lets you forget the magical world you're exploring. It's at the top of the fell, blending seamlessly into the landscape, with lots of large windows in case the Northern Lights put on a show. Either way, you can look forward to the endless sky, the other-worldly forest, and the twinkling lights of the town.
Without a doubt, it is an ideal choice for families as well. This hotel offers pure comfort and breathtaking views in its luxurious suites. The glass cabins are an option too, where you might wonder where the sky ends and your dreams begin.
When you arrive at the hotel, you'll be welcomed with a delicious afternoon tea which includes soup, sandwiches, cakes, biscuits, tea, and coffee. Then it's time to sit back, relax and enjoy your stay.
The hotel also has a sauna and hot tub which can be booked for private sessions, with large scenic windows to check out the landscape - there's barely a spot where you don't feel part of the magic outside.
If you're looking for a true taste of Finland's cuisine, consider Restaurant Kaunis for a 3-course dinner buffet. They use fish from Inari lake in their cooking and serve local specialties that include traditional Finnish dishes and modern cuisine.
The hotel has impressive sustainability credentials, using geothermal heating in the rooms and main building. It's also powered by renewable energy. The bar is just next to it and is a cosy place to relax with a drink.
It's approximately 1.5km from the main village, the best way to get to the village is 40 minutes walk on the snowy path and taxi back uphill. Pickup for all activities is from the hotel.
Choose your Santa's Lapland experience
Both of our Lapland holiday packages include a reindeer ride, sledging with huskies, tobogganing, lots of snowy activities like snow hockey and mini skidoos, and a private visit with Santa. On our Santa's Aurora package, your activity centre is exclusive to our Santa's Aurora families and you'll have an additional wilderness dinner, a longer husky ride and a snowmobile safari.
Enjoy snowmobile thrills and a longer husky ride.

Sleep under the Northern Lights in one of our two accommodations.

To top it off, get extra private family time with Santa and his Aurora Elf.

The ultimate Lapland experience for your family, even the elves get jealous.

From £1549 per adult

See what's included
The best experience we have ever had - it was amazing. Organised yet leisurely, we did things we would never have dreamt of experiencing. I cannot recommend enough!
Other accommodation available 
No one knows how to make
Christmas

more

magical
The Complete Lapland Package
Flights, transfers, half-board accommodation, a fun-filled activity trip and snowsuits are all included.
Price Match Promise
If you find your Santa's Lapland trip cheaper before booking, we'll match the price.
Fly from 15 regional airports
Getting to Lapland has never been easier, with direct flights from around the UK to Ivalo.