Why go to Lapland for Christmas?
Christmas and New Year is a magical time of year. It's a season full of excitement and wonder, of magical stories that you've always heard about but never got to experience. Now's your chance to watch these stories come to life and step into a mystical winter wonderland of never-ending snow.
Deep in the wintry wilderness of Lapland, of frozen lakes and enchanting pine forests, Santa and his cheeky elves are waiting to give you the most magical Christmas ever. Better than you could ever possibly imagine.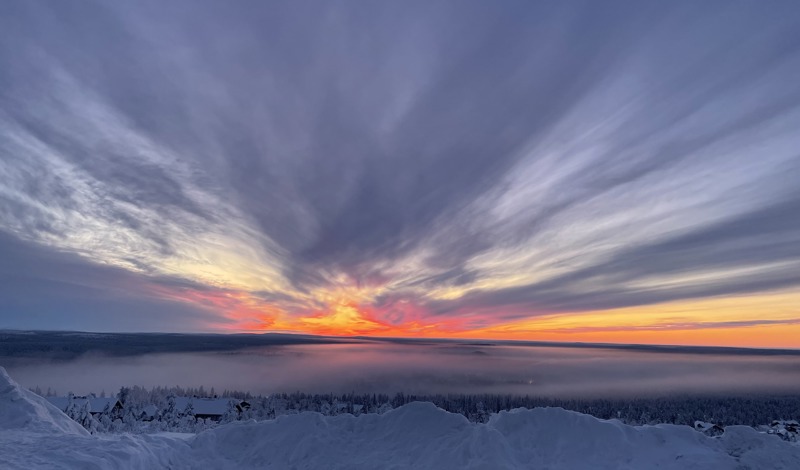 A Christmas To Remember
Are you looking for a Christmas present that will keep on giving?
Santa's Lapland brings you to an other-worldly location, deep in the wilderness of Saariselkä. An unforgettable festive break awaits you in this magical wonderland of traditional log cabins, snow-sprinkled wooded fells, mystical reindeer and cheeky elves. 
The best gifts are the ones that make memories of a lifetime, and when you give the gift of Santa's Lapland, it will be difficult to top next Christmas! 
The Build up Is Real, and So Is the Excitement
Staying in a cosy log cabin in Lapland is a sure way to have a storybook-worthy Christmas. With an abundance of charm, warm log fires and traditional Christmas decorations, these cabins will have you excited to explore all that Lapland has to offer in December. 
From adventurous snowmobile trips to fun husky sledge rides, we offer lots of activities so you and the family can explore the snowy wilderness in the best fun-fuelled way.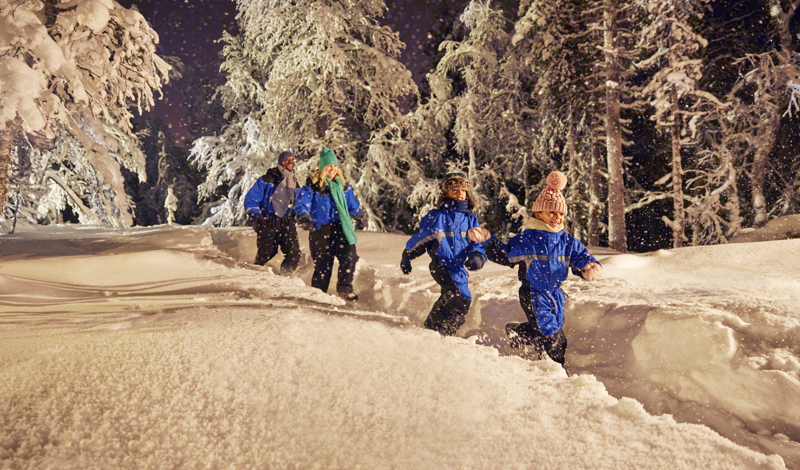 Sign, Sealed & Delivered with Magic
Nothing beats the excitement and build-up of meeting Santa. Before your visit to Lapland, we encourage you to write a letter to Santa and tell him all of your Christmas wishes. All of Santa's letters are delivered by magic and will reach his home in Lapland, ready for your special meeting with him.
Meet Santa's Elves
If you're looking for some Christmas cheer, look no further than Santa's helpers.
The elves of Lapland work hard all year to ensure that Santa's gifts are made and delivered to children around the world. They're so good at their job that they have to take breaks from time to time. 
They are a cheeky bunch, always ready to play and love nothing more than spreading joy and laughter during your Santa's Lapland stay. 
Our elves also have their very own language that only Santa and his helpers can understand. Don't worry, those with magical ears will translate.
Discover our Santa's Lapland experiences
Experience the magic of Lapland, choose between five great hotels to sleep in before heading off to meet Santa and his elves. Revel in a Sleigh Barn show, a Festive Dinner, and see the elves perform in a magical igloo. Follow Santa's glow trail he's left behind by a snowmobile sleigh for your private meeting with Santa.
from £1199 per adult
With a bit of luxury sprinkled on top, sleep under the Northern Lights and enjoy a Wilderness Dinner experience. Whoosh around on a snowmobile safari, step into Santa's Elves Workshop and enjoy an extended husky sled ride at our exclusive activity centre. Travel by reindeer sleigh, following Santa's glow trail for your private meeting with Santa and his Aurora Elf.
from £1889 per adult
No one knows how to make
Christmas

more

magical
The Complete Lapland Package
Flights, transfers, half-board accommodation, a fun-filled activity trip and snowsuits are all included.
Snow Guarantee
Seeing Lapland in the snow is all part of the experience, so if we decide that there's not enough snow, you can change your travel dates, within the same season, or get a full refund.
The Perfect Location
A remote spot in the far north of Finland, 200km above the Arctic Circle among the snowy trees of Saariselkä.