Give The Gift of Santa's Lapland
We all know that finding a unique Christmas gift can be a bit of a head scratcher. You want something that appeals to the whole family, is fun, and continues to sprinkle that Christmas magic long after the decorations have come down.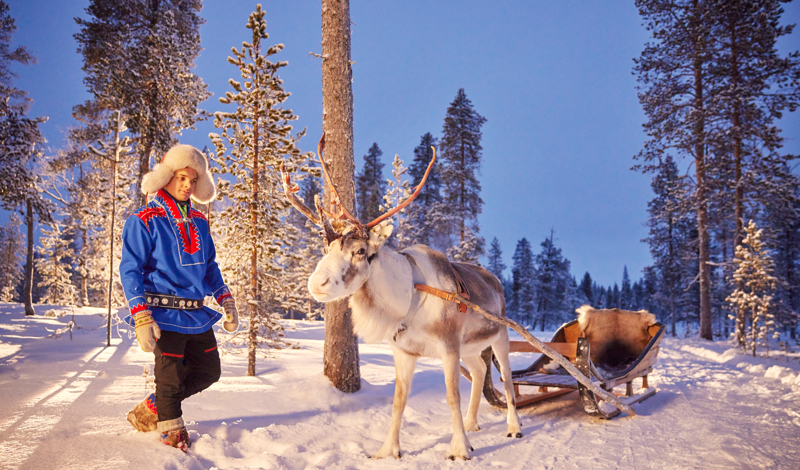 If you're looking for a gift that keeps on giving, then Santa's Lapland offers a once-in-a-lifetime experience - a gift beyond wrapping paper and bows.
Magically Unforgettable
Deep in the snowy wilderness of Lapland, surrounded by frozen lakes and snow-sprinkled fells, Santa and his elves are ready to offer you an unforgettable Christmas. It's beyond anything you can possibly imagine.
A one of a kind experience with cosy log cabins, mystical reindeer, and sleigh driven huskies. It's the ultimate, unique Christmas gift and the one that will continue to give on giving.
Each moment is a gift, not wrapped but lived. It's an unboxable adventure that will be re-lived, re-told and remembered for many years to come.
Gift Your Family These Magical Experiences
In Lapland, every special activity is a gift. Open up these enchanting experiences, one after the other. Each one brings their own magic, joy and unique story to tell.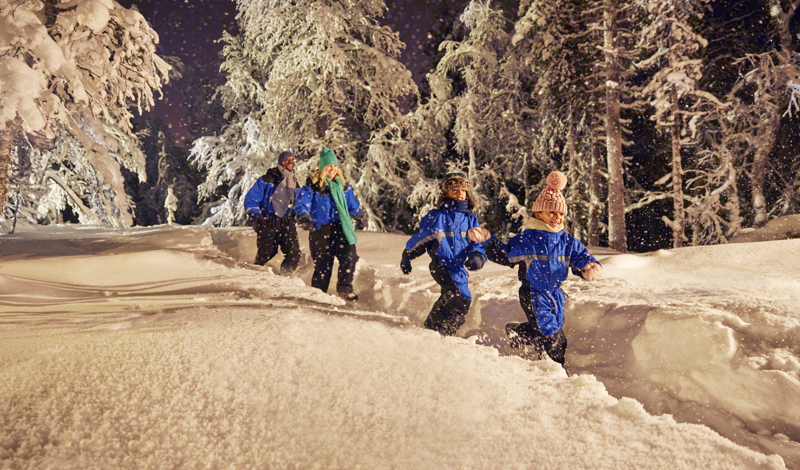 Whether it's strolling through wintry trails, experiencing the thrill of tobogganing, or witnessing the dazzling Northern Lights, these experiences are well worth unwrapping.
The Gift of Excitement
Nothing beats the excitement and build-up of meeting Santa. Before your visit to Lapland, we encourage you to write a letter to Santa and tell him all of your Christmas wishes.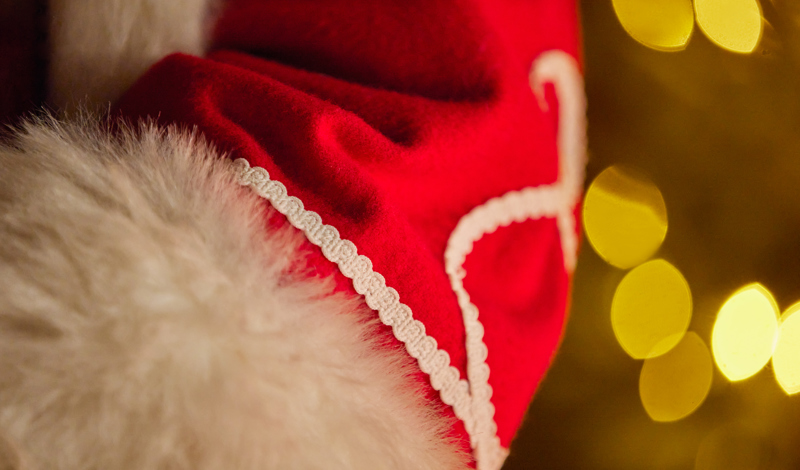 All of Santa's letters are delivered by magic and will reach his home in Lapland, ready for your special meeting with him.
The reveal is a big deal, so we've thought of some special ways to boost the thrill which you can read about here.
The Gift of Unforgettable Memories
Imagine the whole family, kids, parents, and even grandparents, enjoying Lapland together. It's magical for all ages.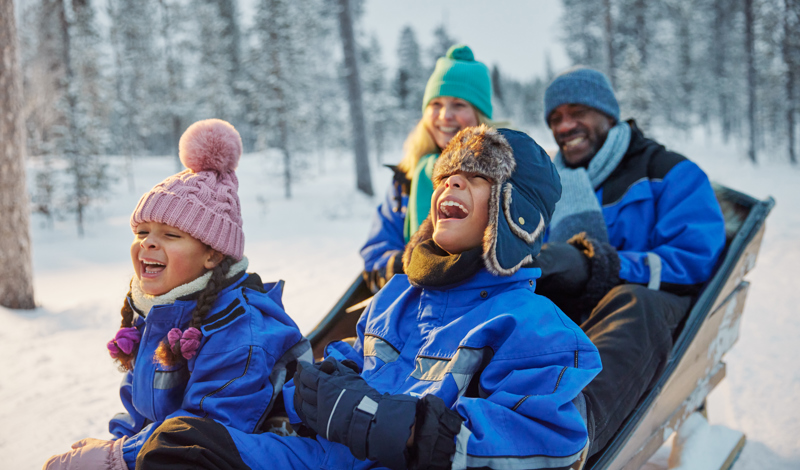 There's something about playing in the snow that sticks with you. It's the laughter, play and shared family fun. Every snowball thrown becomes a cherished memory, shared across generations.
So get ready for lots of snow-filled fun - the kind that family albums and bedtime stories are made of.
Whether you're creating new snow friends by building snowmen, or having a snowball fight with an endless supply of powdery ammunition, you'll be collecting a lifetime of memories.
The Gift of Adventure
Hold onto your bobble hats because Santa's Lapland is packed with snowy adventure. From thrilling husky rides to cosy reindeer rides, every moment is like unwrapping another present.
Husky Rides
Experience the thrill of husky rides - these loyal dogs are born to run and the snowy wilderness is their playground. Hold on tight as they charge through the snow, revealing new surprises at every twist and turn.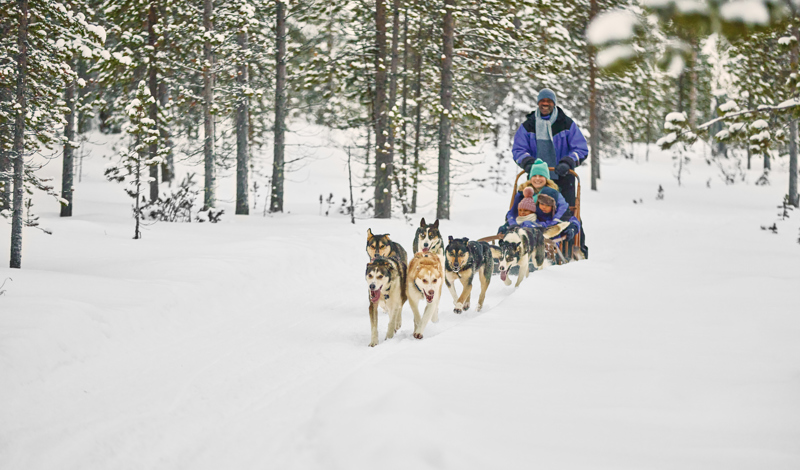 Reindeer Sleighs
For a slower kind of adventure, hop on a reindeer sleigh ride and snuggle under cosy blankets while your local Sami guide takes the reins. Rudolph's friends will take you through the magical snow, a sight unlike anything you've seen before.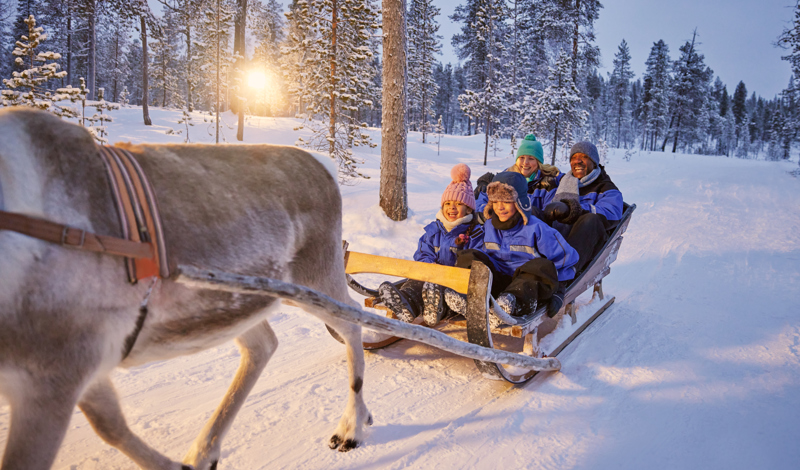 Tobogganing
Tobogganing is all about the thrill. It's like unwrapping a gift that's full of playful energy, providing carefree moments of fun.
It's family-friendly, free, and tons of fun. You can grab plastic toboggans at your hotel (a small fee might apply) and use them anywhere you fancy.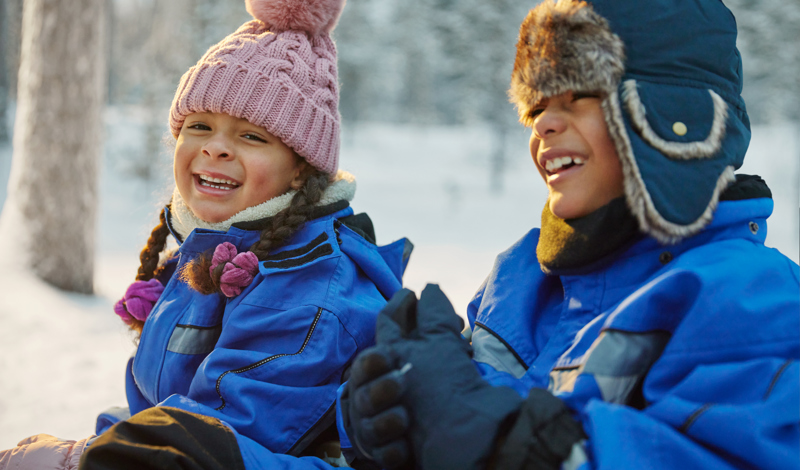 Snowmobile Rides
If you want to unwrap the ultimate adventure, then jump aboard a snowmobile to explore untouched, remote areas of the Lappish wilderness. Feel the rush as you whizz around and take in stunning views.
The Gift of Northern Lights
During your stay in Santa's Lapland, you might just get the special treat of witnessing the Northern Lights. It's a unique Christmas gift, offering a magical experience that will stay with you forever.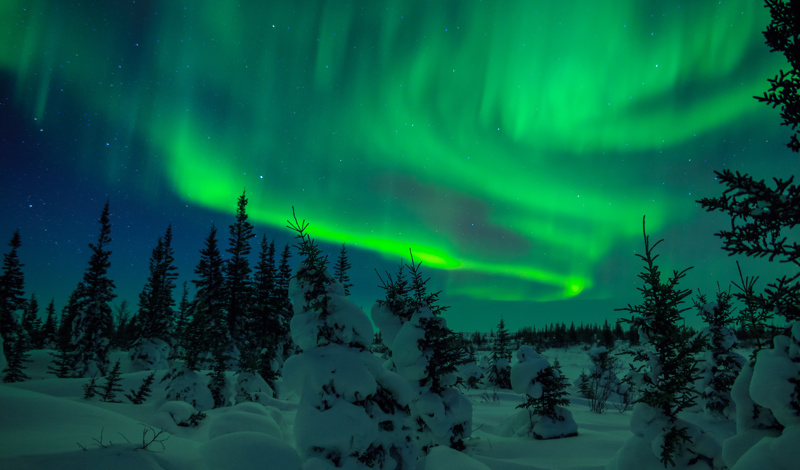 The skies between November and March are often lit up with this stunning light show, although it can be a bit tricky to catch them on a cloudy day. Since our trips run from late November to December, you're visiting at just the right time to see them.
Imagine the dark skies dancing with beautiful shimmering lights - it's a magical sight that you have to see to believe.
The Gift of Magic
Imagine your family's eyes wide with excitement as your little ones step into a real life winter wonderland. It's like stepping into a storybook, and every page turned is full of wonder and magic.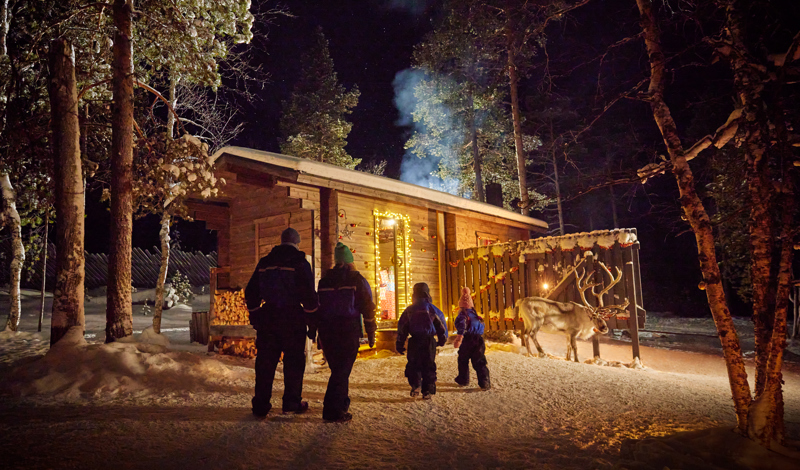 Imagine stepping into a real-life igloo with surprises waiting just for you, or sipping a drink at the glistening ice bar next door.
And the magic doesn't stop there. You'll be whisked away to the snow topped forest for your own personal meeting with Santa and his cheeky elves.
Meeting Santa is like finding the last chocolate in the advent calendar - pure joy. It's truly a magical moment and one your family will cherish forever.
Discover our Santa's Lapland experiences
Experience the magic of Lapland, choose between five great hotels to sleep in before heading off to meet Santa and his elves. Revel in a Sleigh Barn show, a Festive Dinner, and see the elves perform in a magical igloo. Follow Santa's glow trail he's left behind by a snowmobile sleigh for your private meeting with Santa.
from £1199 per adult
With a bit of luxury sprinkled on top, sleep under the Northern Lights and enjoy a Wilderness Dinner experience. Whoosh around on a snowmobile safari, step into Santa's Elves Workshop and enjoy an extended husky sled ride at our exclusive activity centre. Travel by reindeer sleigh, following Santa's glow trail for your private meeting with Santa and his Aurora Elf.
from £1889 per adult
No one knows how to make
Christmas

more

magical
The Complete Lapland Package
Flights, transfers, half-board accommodation, a fun-filled activity trip and snowsuits are all included.
Price Match Promise
If you find your Santa's Lapland trip cheaper before booking, we'll match the price.
Fly from 15 regional airports
Getting to Lapland has never been easier, with direct flights from around the UK to Ivalo.