A Husky Powered Adventure
Ready for a pawsome adventure? Imagine husky sledding in Lapland, being whisked through pristine snowy landscapes, led by a team of enthusiastic huskies. These huskies are far from your ordinary dogs - they're not just pets but a living part of the Arctic heritage.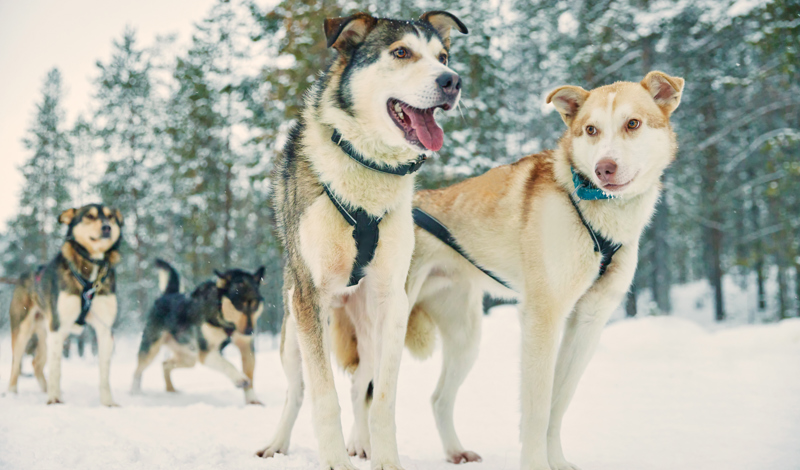 If you're looking for an unforgettable experience, husky sledding in Saariselkä is a must-try. Both our Santa's Magic and Santa's Aurora packages include husky experiences, but you can spend more time with these incredible animals with our Husky Rides in Saariselkä.
The Husky Experience
This is no ordinary journey, it's a husky-driven express straight into the snowy heart of Lapland.
For the adults, it's a unique opportunity to play musher, leading the husky team. And for those who prefer to sit back and enjoy the ride, there are cosy spots on the sled just for you.
New to mushing? Don't worry, your guides will ensure you're well-prepared to join the adventure.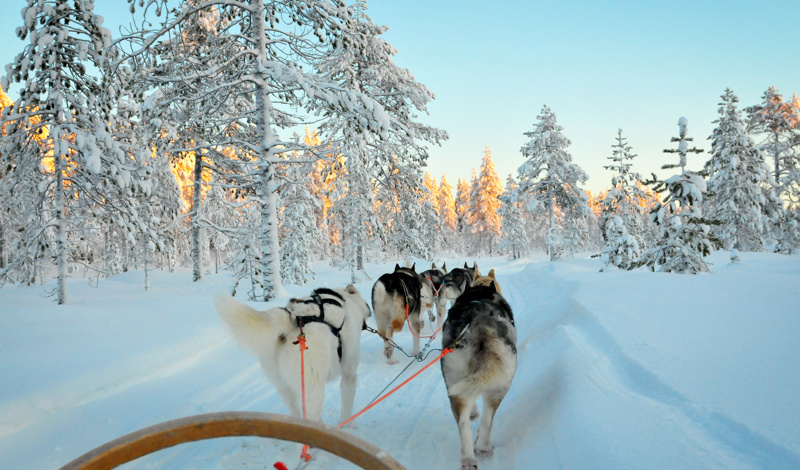 What is 'Mushing'?
Husky sledding is often referred to as 'mushing', a term that originated from the French word "marcher", meaning to walk.
Why do mushers say 'mush' to sled dogs?
The term 'mush' comes from the French word "marcher".
However, contrary to popular belief, it's not commonly used as a command for dogs in sledding, as the sound is too soft.
Understanding Huskies
Huskies are fascinating - they're not just one breed but a mix of various Arctic dogs, making each one unique in appearance and ability. From the Alaskan Husky, a blend of several breeds, to the pack-oriented nature of these dogs, there's so much to learn and admire.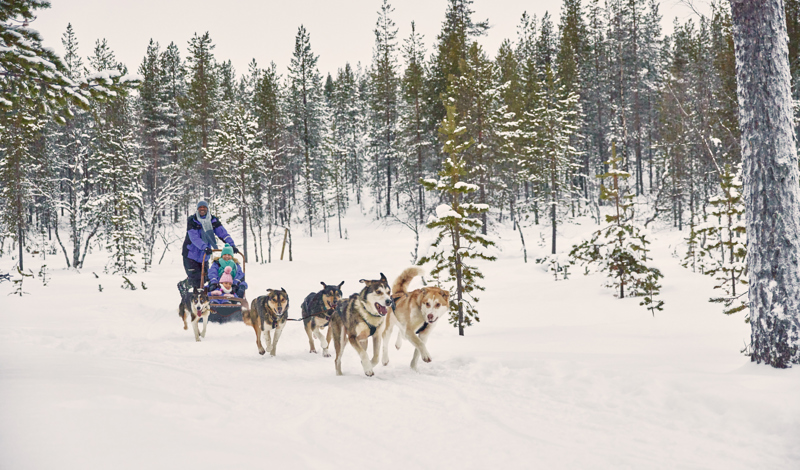 Caring for Our Huskies
Our huskies are more than just sled dogs; they're a part of a bigger Lapland family. They start training them from a young age, ensuring they're happy, healthy, and ready to lead your sled. And though they're built for the cold, every precaution is taken to keep them safe and comfortable.
We are dedicated to protecting animals and their natural environments. Our aim is to create real, meaningful experiences that benefit our customers, local communities, and wildlife, while ensuring that animal welfare is never compromised.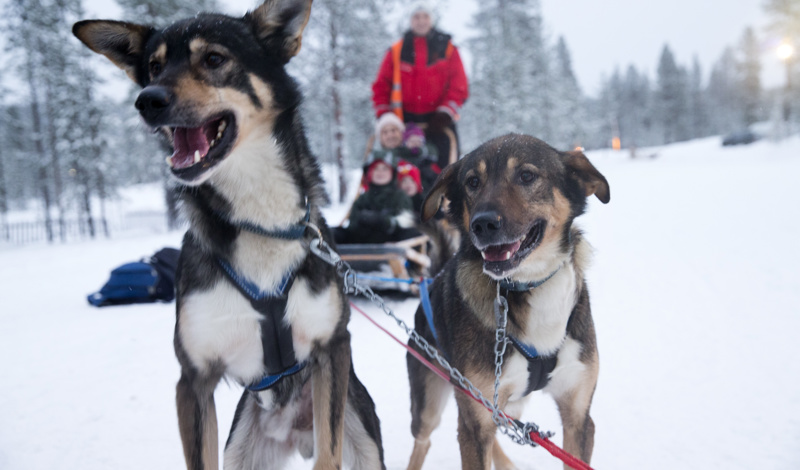 Steering Your Sled
Controlling a husky team is simpler than you might think. Your guide will show you how to direct the huskies and interpret their needs, ensuring a smooth ride through the stunning Lappish scenery.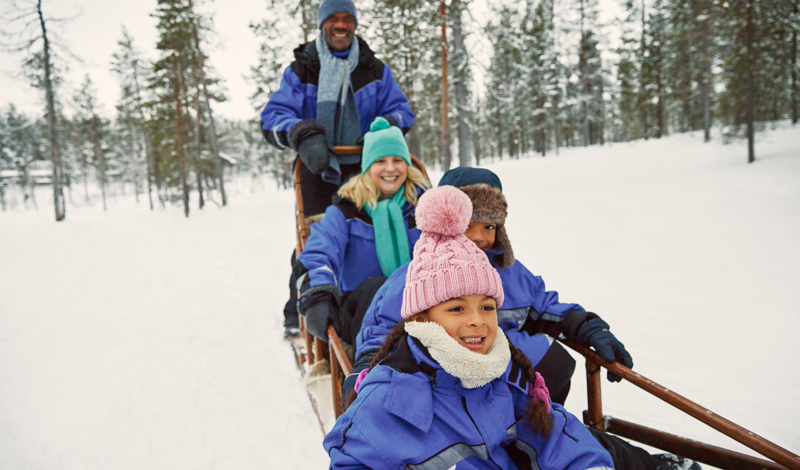 Extend The Magic
If you love your husky experience, then you'll have the option to extend the magic. Our Northern Lights by Husky experience, exclusive to the Santa's Aurora package, offers an extended ride through Lapland's magical landscape.
And if you're on the Santa's Magic an optional husky excursion is available, letting you dive back into the snowy wonderland for more thrilling moments with these amazing animals.
How to Book
Eager to hop on that holly jolly husky ride? You can easily book it alongside your holiday package. If you've already booked, no problem - just use the 'Manage Your Booking' feature on our website to add this husky adventure.
Or, if you prefer a more personal touch, give us a jingle bell call! We're here to ensure your Lapland experience is as enchanting and as magical as you can imagine! Let's make those husky sleigh dreams come true!
Your Husky Sledding FAQs Answered
Who drives the husky sled?

On our husky sleds, it's the adults who take the reins. Standing at the back of the sled, an adult has full control, managing the pace and direction with a handy brake. Meanwhile, there's a cosy spot for children and another adult to sit and enjoy the ride.
Can I swap driving duties during the ride?

Absolutely! There will be opportunities to stop and switch positions. If you're riding with another adult, feel free to swap drivers during these breaks.
What if I prefer not to drive?

If you'd rather not drive the sled yourself, let us know in advance. We might be able to arrange a driver for you, though this could incur an additional fee.
What kind of refreshments are provided?

During your rest stops, we offer hot berry juice to keep you warm and refreshed.
Are huskies pack animals?

Yes, huskies thrive in a pack environment. They require a clear pack leader, and training starts from a young age to ensure good behavior.
How are huskies trained for sledding?

Training begins when huskies are about 6-7 months old. The strongest dogs, called wheel dogs, are placed nearest to the sled, with younger dogs in the middle.
Are huskies prone to frostbite?

Despite their thick fur coats, huskies can be susceptible to frostbite in extreme winter conditions.
Why do huskies look so different?

Since Alaskan huskies are a mix of various northern dog breeds, they exhibit a wide range of appearances, colors, and patterns.
How do you control a team of huskies?

Steering a husky team is straightforward. Your guide will show you how to direct them and when they might need an extra boost of speed.
What are some unique traits of Nordic huskies?

Nordic huskies, adapted to the Arctic conditions, are known for their strength, speed, endurance, and thick fur coats. Each dog has a defined role in the pack, with the most experienced leading the way.
What extra does the Santa's Aurora package offer?

With the Santa's Aurora package, you'll enjoy an extended 2 hour husky sled ride, giving you more time to experience the magic of racing through the snowy Lapland forests.
Discover our Santa's Lapland experiences
Experience the magic of Lapland, choose between five great hotels to sleep in before heading off to meet Santa and his elves. Revel in a Sleigh Barn show, a Festive Dinner, and see the elves perform in a magical igloo. Follow Santa's glow trail he's left behind by a snowmobile sleigh for your private meeting with Santa.
from £1199 per adult
With a bit of luxury sprinkled on top, sleep under the Northern Lights and enjoy a Wilderness Dinner experience. Whoosh around on a snowmobile safari, step into Santa's Elves Workshop and enjoy an extended husky sled ride at our exclusive activity centre. Travel by reindeer sleigh, following Santa's glow trail for your private meeting with Santa and his Aurora Elf.
from £1889 per adult
WAYS TO BOOK YOUR HOLIDAY TO LAPLAND
It's time to book your trip to Lapland and we can't wait for your arrival. Whether you're booking online or giving our Christmas helpers a call on 01483 791 945, we're just as excited as you are for your magical journey to begin!
No one knows how to make
Christmas

more

magical
The Complete Lapland Package
Flights, transfers, half-board accommodation, a fun-filled activity trip and snowsuits are all included.
Price Match Promise
If you find your Santa's Lapland trip cheaper before booking, we'll match the price.
Fly from 15 regional airports
Getting to Lapland has never been easier, with direct flights from around the UK to Ivalo.