Available with
Santa's Magic
2 night trip
3 night trip
Duration
2 hours
Pricing
from £114 per adult. from £99 per child (2-11 years).
This experience is only available on our Santa's Magic trip, however if you'd like to experience a Husky adventure on Santa's Aurora, then you can book our Northern lights by Husky experience. 
Charge across the snowy wilderness - huskies are born and bred to run, they love it!
You'll be picked up from your hotel and whisked away to the husky farm, where the team will show you how to drive the sled and command the huskies. They'll be barking away when they see you coming, that's how excited they get to go out for a winter run.
You'll be warm in your thermal suit, boots and gloves, but you'll have blankets in the sled to be extra cosy on your husky sleigh ride.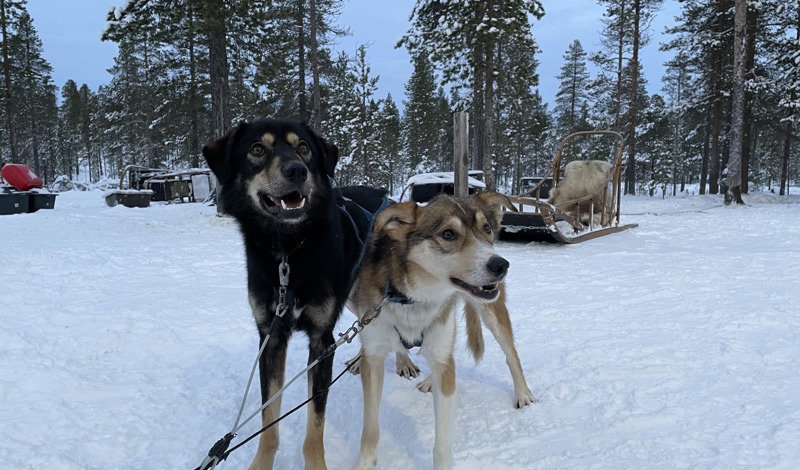 The husky lowdown
The driver stands on the back of the sled, where there's a brake to slow down the dogs.
A grown-up drives, and there's room for two people in the sled.
You'll also have a chance to stop and swap positions.
If you'd prefer to have someone drive the husky, just let us know as soon as you can. This might not always be possible, and there might be an extra fee, but we'll do our very best.
When you stop for a rest, we'll have hot berry juice to warm up your hands and bellies. If there are two grown-ups, you can swap drivers here if you like.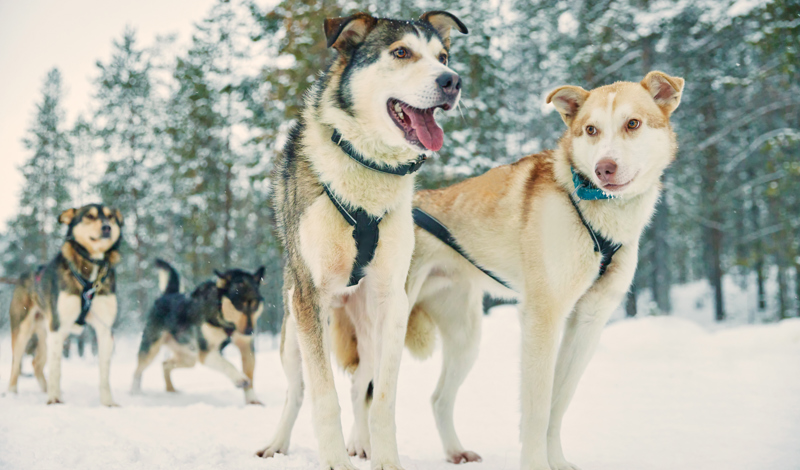 How do you steer the huskies?

It's super easy to control a team of huskies, your guide will explain how to change direction. Sometimes the huskies will look to you for help, maybe they need a bit of extra speed from you - your guide will talk you through these hints.
How long is the husky ride?

Mush! Off you'll go through enchanting snowy forests and across a frozen lake. The ride is 5km which lasts 25-30 minutes and the whole excursion takes 2 hours.
Fun facts about Nordic huskies

This is a traditional way of getting about Lapland for the Nordic people. The energetic, furry huskies are perfectly suited to the conditions in Lapland. 
Huskies are renowned for strength, speed and endurance.
Compared to other dogs, they have a thicker coat with a dense undercoat and a longer topcoat to give full protection against the Arctic winter. 
Generally, they're highly intelligent and come in a variety of colours and patterns.
The huskies work together as a pack and there's a very defined role for each dog within the team. Can you spot the leader who's the most experienced and intelligent dog? They'll be at the front and will listen out for your commands. Charge!
In the middle are the youngest and more inexperienced dogs, while at the back are the strongest dogs who also keep a watchful eye on the younger dogs in front of them.
How to book our Husky adventure
Book at the same time as your holiday, after you've booked via 'Manage Your Booking' or call us.
Explore more of our magical adventures
Reindeer Rides
1 - 2 hours (30 minute sleigh ride)
Available with
Santa's Magic
Santa's Aurora
2 night trip
3 night trip
from £103 per adult. from £72 per child (2-11 years).
Find out more
Northern Lights Adventures
2 hours
Available with
Santa's Magic
Santa's Aurora
2 night trip
3 night trip
from £101 per adult. from £79 per child (4 to 11 years).
Find out more
No one knows how to make
Christmas

more

magical
The Complete Lapland Package
Flights, transfers, half-board accommodation, a fun-filled activity trip and snowsuits are all included.
Snow Guarantee
Seeing Lapland in the snow is all part of the experience, so if we decide that there's not enough snow, you can change your travel dates, within the same season, or get a full refund.
The Perfect Location
A remote spot in the far north of Finland, 200km above the Arctic Circle among the snowy trees of Saariselkä.