There's Snowplace Like Lapland
Is there snow in Lapland? While snow in Lapland isn't as guaranteed as those annual Christmas socks, when it does grace us, it's pure magic.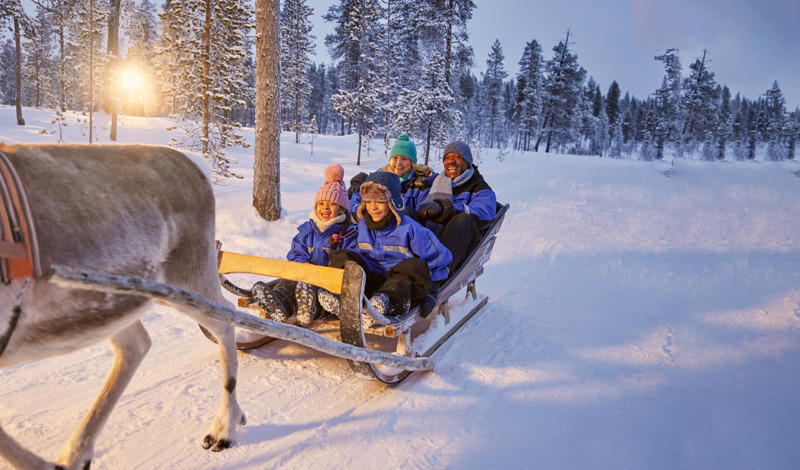 It starts falling in October and doesn't say goodbye until May, turning everything into a winter wonderland.
Imagine waking up to a world covered in sparkly white snow almost every day. In some years, this snowy magic sticks around for over 200 days. It's like living in a snow globe.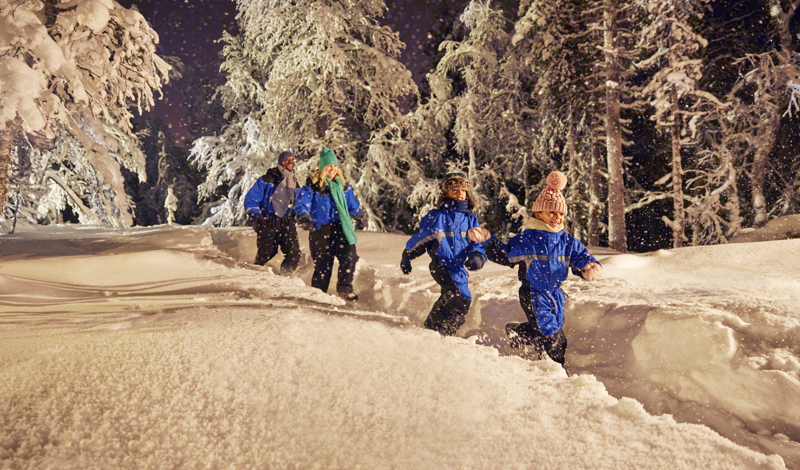 Lapland is famous for its long, snowy winters, all thanks to its chilly subarctic climate. It usually means lots of snow, so you're likely to have a white Christmas.
And who doesn't get excited about snow at Christmas? It's like hot chocolate with marshmallows or Santa and Rudolph- some pairings just belong together.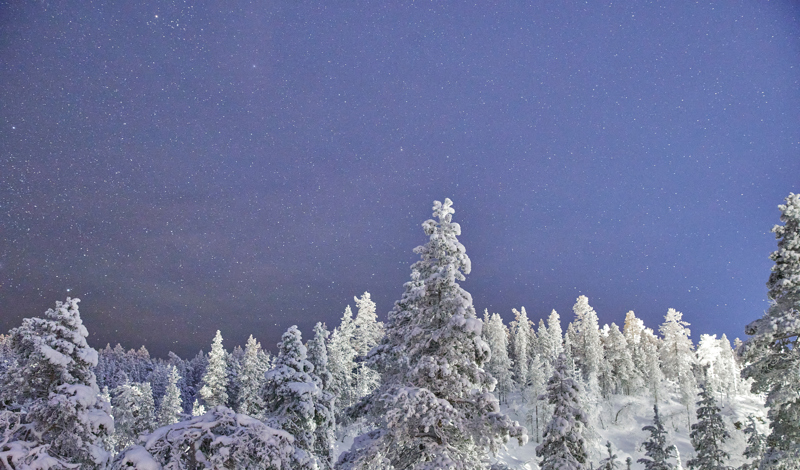 A Family Adventure North of The Arctic Circle
Santa's Lapland takes you 200 kilometres north of the Arctic Circle, to the small village of Saariselkä, nestled against the beautiful backdrop of Urho Kekkonen National Park.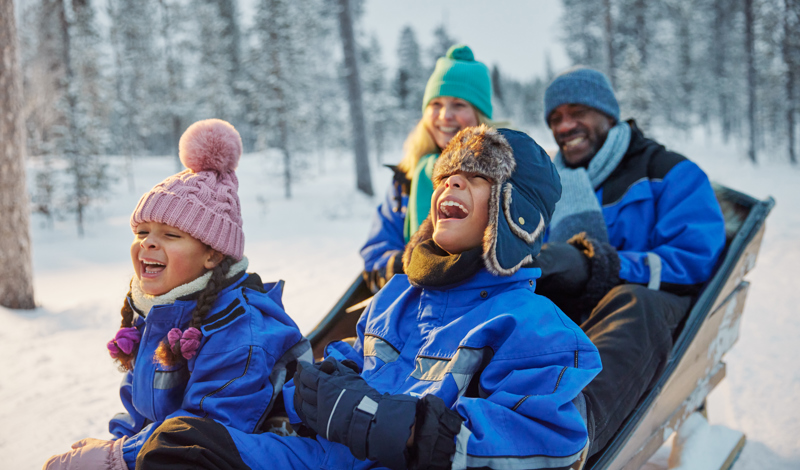 Saariselkä is famous not only for its snowy landscapes but also as an excellent spot to witness the Northern Lights.
Lapland ranks among the world's top destinations for Northern Lights viewing. However, please note that seeing them isn't a guarantee, but you'll have a high chance when it's not cloudy.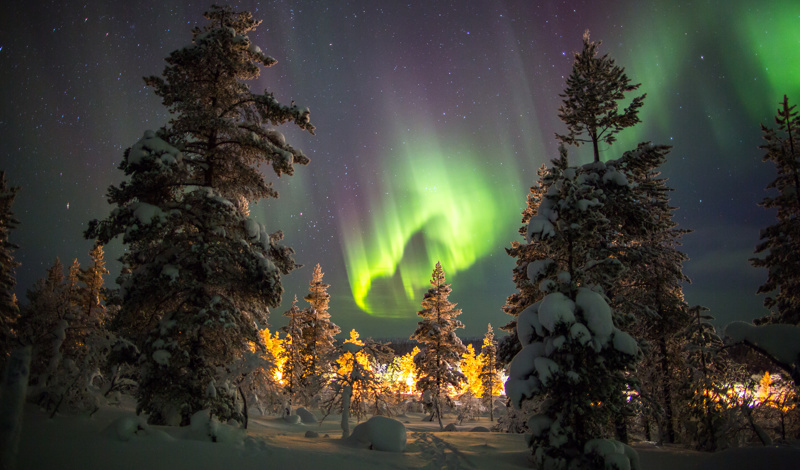 Snowfall in Saariselkä
Snow in Saariselkä? There's a good chance! The Finnish Meteorological Institute reports a 90% chance of a snowy Christmas each year in Lapland. Now those are some frosty odds we can all get excited about.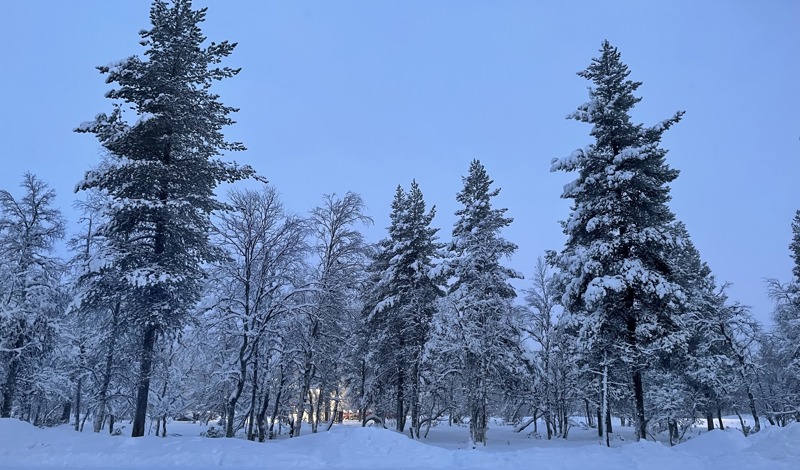 The snow usually starts falling in October and doesn't stop until May, giving you 175 to 225 days of snowy fun!
It's like nature's own snow globe, shaken up for nearly two-thirds of the year, casting a magical white spell across the landscape.
Chilly? Just a bit!
During the height of winter, temperatures in Lapland can fluctuate between a chilly -16°C and a slightly warmer 3°C.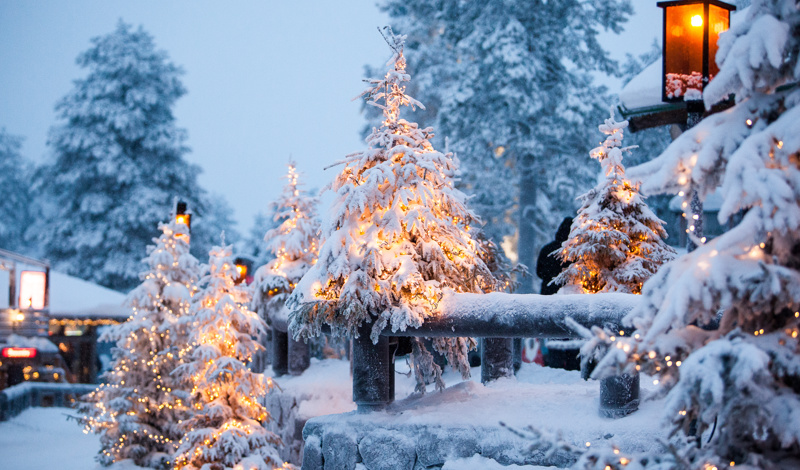 With the thermal suits and boots provided for you, you'll stay toasty warm. If the cold weather gets too intense, our team can change plans to make sure your trip stays magical.
And all that lovely snow also means that Lapland is the perfect playground for winter activities.
Get ready for exciting adventures like husky sledding and snowmobile rides. So, don't forget to pack your sense of adventure along with your mittens. See our guide on what to wear and pack.
In the world of Santa's Lapland holidays, snow isn't just a backdrop, it's the main character. So, if for some reason the snow is shy, we've got you covered.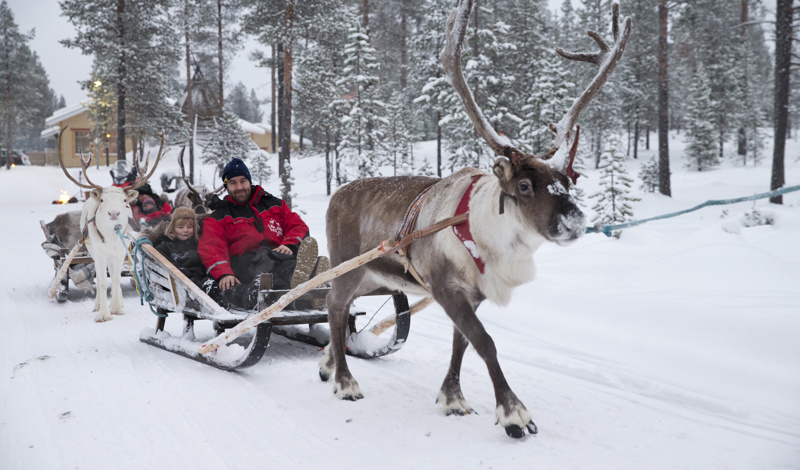 We understand that a trip to see Santa wouldn't be the same without lots of snow to play in. You can either reschedule your holiday for later in the same season or get a full refund. We want to make sure you experience Lapland in all its snowy glory.
Snow Today and Snow Tomorrow
We're big fans of snow. That's why we're committed to keeping it under our feet. Because nothing is more magical than a white Christmas, but it's the green practices that ensure snowy Lapland is here for generations to come. Follow us on our sustainability journey.
Discover our Santa's Lapland experiences
Experience the magic of Lapland, choose between five great hotels to sleep in before heading off to meet Santa and his elves. Revel in a Sleigh Barn show, a Festive Dinner, and see the elves perform in a magical igloo. Follow Santa's glow trail he's left behind by a snowmobile sleigh for your private meeting with Santa.
from £1199 per adult
With a bit of luxury sprinkled on top, sleep under the Northern Lights and enjoy a Wilderness Dinner experience. Whoosh around on a snowmobile safari, step into Santa's Elves Workshop and enjoy an extended husky sled ride at our exclusive activity centre. Travel by reindeer sleigh, following Santa's glow trail for your private meeting with Santa and his Aurora Elf.
from £1889 per adult
No one knows how to make
Christmas

more

magical
The Complete Lapland Package
Flights, transfers, half-board accommodation, a fun-filled activity trip and snowsuits are all included.
Snow Guarantee
Seeing Lapland in the snow is all part of the experience, so if we decide that there's not enough snow, you can change your travel dates, within the same season, or get a full refund.
Price Match Promise
If you find your Santa's Lapland trip cheaper before booking, we'll match the price.